Note: This is part 2 in a series. Part one is here.
Ninety-nine percent of all altcoins are garbage, the one percent will change the world.
That's not an original thought.
And once you find that one special one percent, it's not enough to just hit the "buy" button.
Low trading volume, unregulated offshore exchanges, and anonymous traders make it altcoin trading happy hunting grounds for shady pumpers and dumpers.
Every once in awhile, a message pops in my inbox asking if they should invest in or that altcoin.
Invariably, the answer is no.
I'm not talking about altcoins created by techies who have a vision for the future but no business sense and their vision ultimately fails short.
That happens all the time and that's okay. Visionaries often fail. Success is grown in a vat of failure.
No, I'm talking about altcoins where the price is manipulated.
I've lost money betting on the visionaries. I don't lose sleep on that.
But losing money to traders on the other side of the trade who yank the price up-and-down like a yoyo is maddening.
Fortunately, altcoins that can be pumped and dumped are easily to spot.
Here's an example.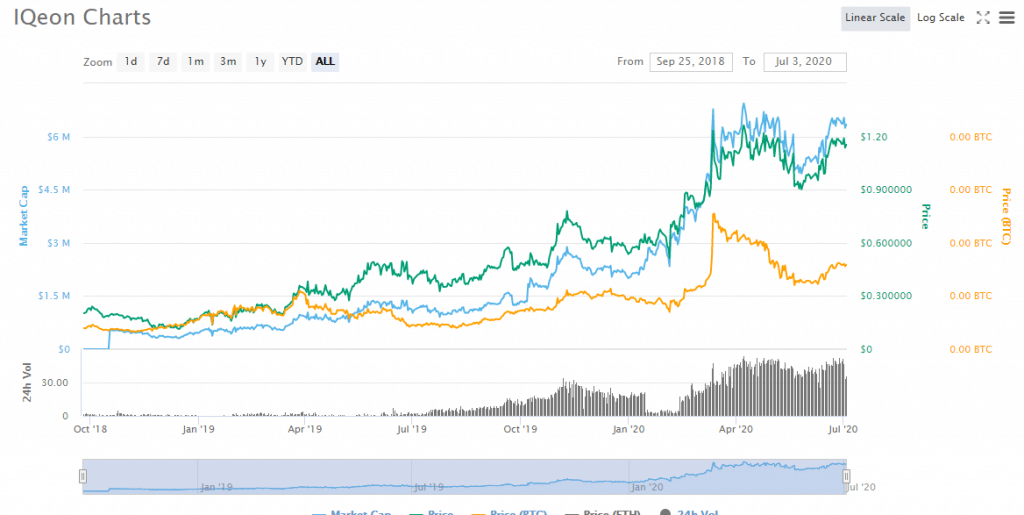 https://coinmarketcap.com/currencies/iqeon/
First off, its important to realize that an altcoin doesn't have to be a "scam" coin to be the target of price-manipulators.
It's actually easier if the altcoin is not.
Above all, there is one attribute of an altcoin that is attractive to a pump-and-dumper, and that is low trading volume.

IQueon has that in spades.

With a market cap of more than $6 million USD, there is enough asset value for a sizeable payday if the price goes up..
But with a daily trade volume of under $40K USD, there is also a lot of leverage with just a small bump in trading volume.
Or put it another way. A 10K buy or sell order would move the market. A twenty or 30k USD order would dominate the market for that day.
However, we also need to know a few more things, like, where is it traded?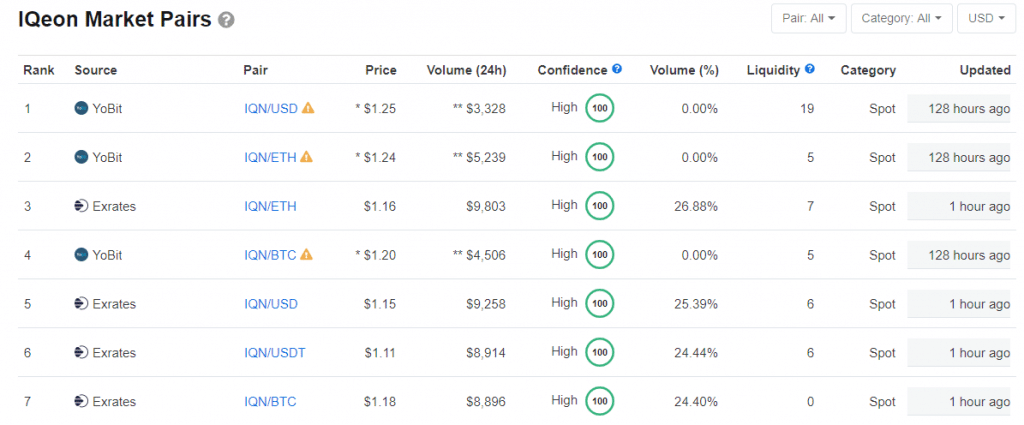 Once again, the website coinmarketcap comes to the rescue. Only two exchanges list IQeon, and both are exchanges that don't bother with KYC/AML regulations.
This is excellent news. If you want to manipulate an altcoin, it's best to stay anonymous.
However, we need to check one more thing. We need to see the orderbook on the exchanges.
I have an account with Yobit, never heard of Exrates, so we will just focus on the former:

The trading part IQN/USD on Yobit accounts for about 25% of the daily trade volume. As you can see from the orderbook:
Buying $600 of IQN will move the price 3.5% up. Selling $500 of IQN will move the price 4%.
However, if the market for IQN is reasonably efficient, expect traders from the other trading pairs to jump in and try to cover your trades.
But as you can see, a few thousand dollars buy or sell can definitely move the market, for altcoin with a market cap of $6 million USD.
If you are buying altcoins as more of a hobby and for amusement, and only want to buy a few hundred dollars, maybe it's okay.
But more than a thousand dollars? You can get in, but lack of liquidity means you can't get out without taking a serious haircut.
And look at the chart. IQeon has had a huge run, top of the chart.
Top of chart + Low trading volume = Watch out.
Has the price of IQeon been manipulated by pumper/dumpers? I don't know and I don't care. It's enough for me to look at the orderbook and say no thanks.
But How Does One Profit by a Pump and Dump?
The mechanics of a pump-and-dump are beyond the scope of this article, but I can outline the basics.
Before the dump, you have to pump. But before the pump, you have to accumulate.

Meaning, you have to get as much of the altcoin at the best possible price. That means day, if not weeks, of gradually buying up as much altcoin as you can without moving the price up (too much).
That requires patience and sets the pumper/dumper apart from most altcoin traders, who merrily bash the buy button as a market order to get trade over in seconds, if not milliseconds.
After accumulating, you have to pump.
The best way to pump (for you), is to get other traders to buy the coin. And that means work, for example:
Posting on internet forums about you found the fantastic altcoin that is going to save the world.
Posting on Twitter.
Posting on Telegram (which is a real favourite of pumper/dumpers because it's anonymous and untraceable).
Getting OTHER traders to do any of the above.
Bonus points if you can get gullible website owners to sing the praises of whatever coin you have accumulated.
And finally, buying the altcoin itself to bump ever so higher (being a market maker).
Finally, after pump the altcoin price to a level where you have a healthy profit, you then head for the exit.
This is accomplished by either a quick dump (if there is enough volume to handle it) or be slowly selling off your shares while still telling everybody how much you love the altcoin.
Finally, when the last altcoin has left your wallet, it's time to head to the nightclub.
Conclusion

There is nothing new under the sun. These VERY basic tactics of pumping and dumping explained here have been used by unscrupulous traders since the start of New York stock exchange in 1792.
But the rise of crypto has given these very old tactics a fresh start.
Anonymous trading, off-shore unlicensed exchanges, and no scary regulators.
It's still the Wild West out there.
DJ