s most of you know, I tend to take the month of September, off, staying mostly in cash.
This month is traditionally the worst in crypto, one of three to post historically a net loss for holders of Bitcoin going back to 2012 (the other months are January and June).
While Bitcoin is up 6% this month, Bitcoin mining stocks are still getting hammered, and I hope my subscribers were paying attention to my bulletins in August when I was dumping them.
In any case, to keep myself amused this month, I decided to play with Friend.tech.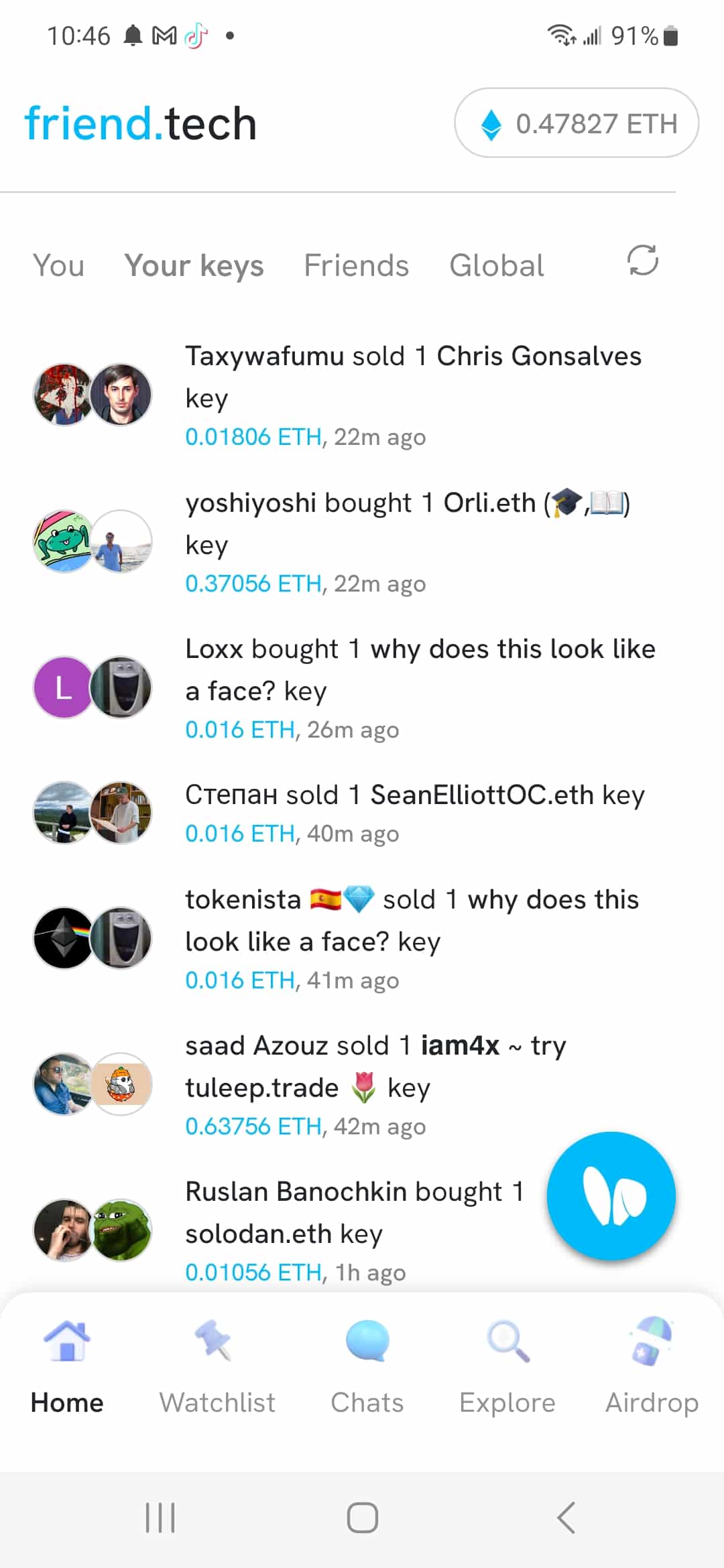 And I'm hooked.
I will try to describe what Friend.tech does.
It allows you to buy "keys" in other people's profiles, which are linked to their Twitter accounts. Once you have bought their key, you have access to their chat room.
And that's it.
Now, if you think that sounds like a stupid Ponzi scheme, you are not alone. There is widespread skepticism in crypto-twitter about Friend.tech.
As for myself, I attended a financial conference a couple of weeks ago and I was excitedly showing my Friend.tech account to some other financial newsletter writers at happy hour.
Within 2 minutes, they found other people to mingle with.
Nobody I have talked to personally "gets" the app, except for my long-suffering wife, who is used to me going off on goofy tangents, and I think she is just humoring me.
Having said that, there are two reasons why I believe Friend.tech is not the latest Ponzi scheme in the world of crypto.
The first is that I'm addicted to it. I spend a lot of time on the platform, and that's a rare thing nowadays.
I have been sitting in front of a screen scratching out a living for more than 30 years. More and more, I look for an excuse to get up from my chair and go walking.
On the weekend, it's the best feeling ever to turn off the phone and go hiking in the mountains north of Vancouver BC.
It's even tough for me to watch TV anymore for more than 30 minutes at a time.
As far as gambling goes, I have been gambling longer than I have been sitting in front of a screen. I was counting cards at Vancouver casinos back in the early 1990s.
I stopped gambling in casinos decades ago. Now I have crypto. I visit Vegas all the time for financial conferences, and afterward, I always go hiking. I'm never tempted by the casinos (actually when I see three-zero roulette on the strip, it enrages me).
What I am saying is that ANYTHING that can get me to gamble some money and stare at a screen for more than 30 minutes, has got some magic.
But that's just my opinion.
The second reason has to do with money. Or to be precise, revenue: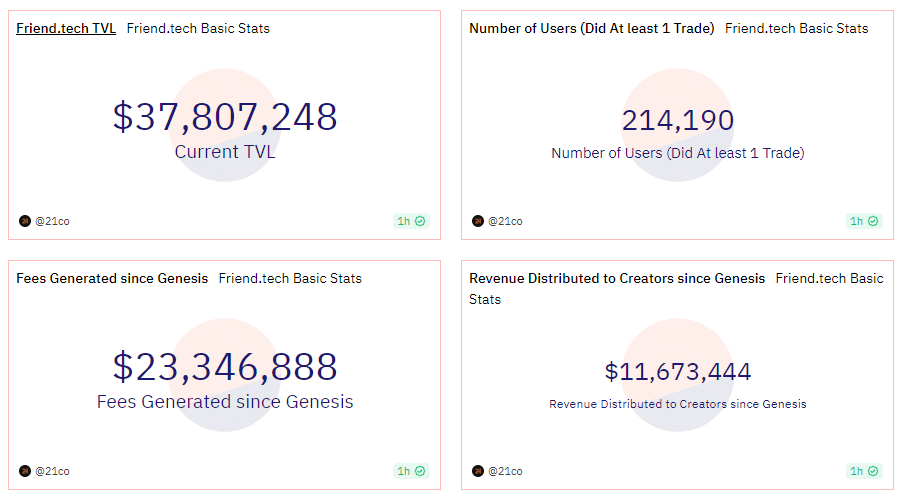 These numbers should make your eyes pop. Friend.tech was launched 
just last month, 
and it's already generated more than $23,000,000 USD in revenue.
Guess how many developers were on the team when it launched? Three!
Unlike the other five million social media platforms out there, you have to pay to play on Friendtech.
Sure, you can get on the platform and buy a key for less than a dollar. But you have to pay something.

That means a user in Friend.tech always generates revenue, as opposed to other platforms crawling with bots and freeloaders that don't add any value to the community.
Conclusion

Friend.tech is currently in beta, and you need an invite code to get on the platform (email me at dj@newcurrencyfrontier.com if you want one).
Presently, every week "points" are distributed to every user that is holding "keys" on the platform.
There is currently speculation that at the end of the beta period, in a few months, users will just cash in the "points" when they become tokens and then leave the platform.
We will see about that. As for myself, even though I have been awarded thousands of points already, that's not why I play on the platform.
I'm just addicted to it.
DJ