The first story of the year usually writes itself.
January is traditionally the slowest time of the year for cryptocurrency, as much of Asia readies itself for the Chinese New Year.
For the last FIVE years, bitcoin has shown negative returns in January. It's by far the worst month of the year for crypto.
But at present time of writing, bitcoin is up from $7200 to more than $8000, or a rise of more than ten percent.
Is that sustainable? Well, during the move upwards, there is has been no increases in the volatility of bitcoin futures, according to the funding rate of Bitmex: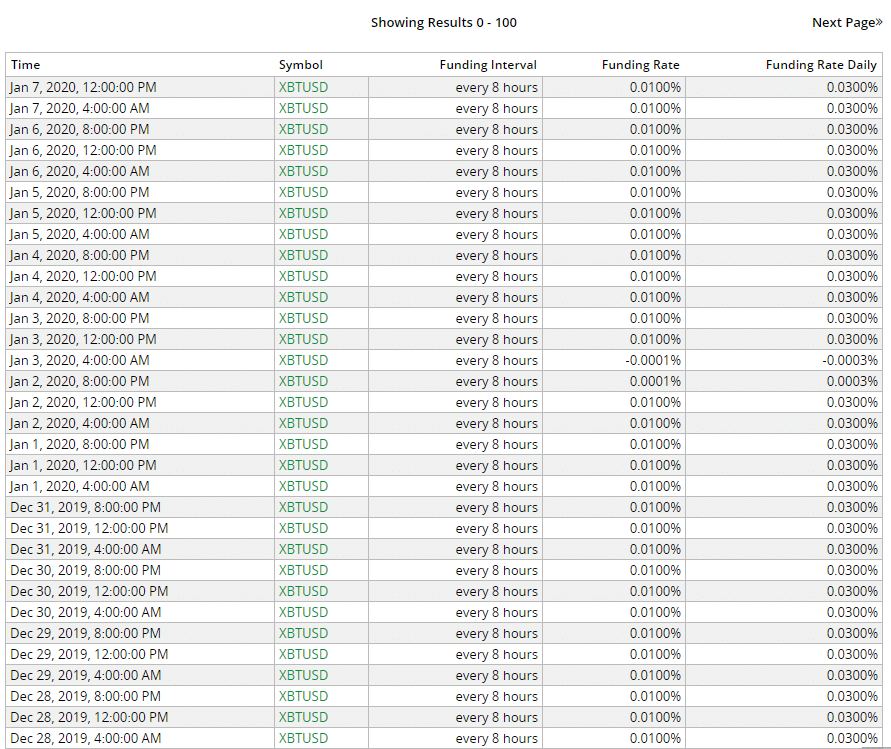 That is a very boring table of the Bitmex funding rate for the largest bitcoin futures contract in the world, the Bitmex XBTUSD perpetual contract.
To me, it's suspiciously boring. But I have been somewhat paranoid lately.
It's paying out the default rate of 0.03% a day, or 10.95% per annum.
So the recent rise of bitcoin has nothing to do with gamblers taking a punt on the futures market.
But it's not just bitcoin that is making sudden moves.
This is the one-month chart of gold: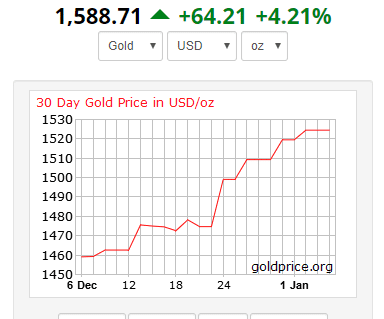 Gold has woken up from a very long slumber. It hasn't been above $1500 since 2013.
Our sister publication, Investing Whisperer, has been heavily investing in gold stocks since September of 2019, and think 2020 is going to be a blowout year for gold.
Coincidentally (or not), even oil is starting to climb. Year-end estimates by analysts across the board predicted WTI to stay below $60. It's already climbed as high as ….
Whoops, as I write this, there is news of Iran firing missiles at US bases in Iraq.
No idea of what the price of US crude, let alone Brent crude, will be by the time you read this.
As I am not allowed to dispense investment advice, I can't tell you to buy bitcoin, gold, and oil stocks (not necessarily in that order).
But that's where I have put my money. That's what I'm watching.
DJ