Canadian brokerage firm GMP Equity Research has placed a "speculative buy" on HIVE Blockchain Technologies (HIVE-TSXv) with a target price of $5.35 CAD. (current price is $2.99).
After wading through the 22-page report for most of this morning, I found a chart that, IMHO, really illustrates what is going to happen to the stock in the short term.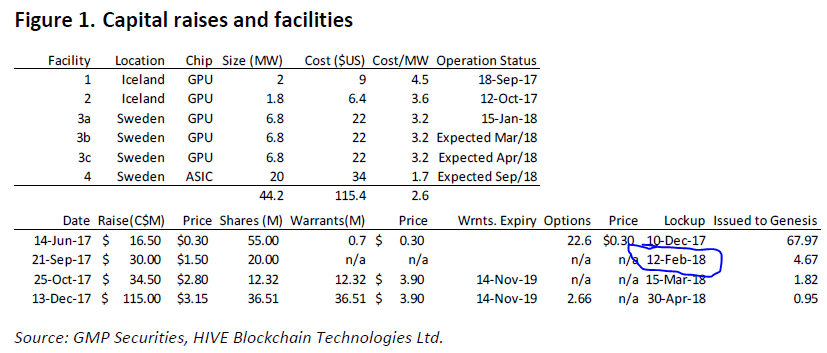 February 12th (circled in the chart) is the day when 20 million shares come free-trading. Those shares were bought at $1.50 last September. If the stock price is close to $3.00, that's a nice 100% return for those investors after only six months.
(Disclosure, I have HIVE stock that comes free-trading on that date).
You can assume that at least some of those investors are shorting the stock right now. As of January 16th, there were 10 million shares shorted on HIVE and I would think that a LOT of those shorts HAVE to be covered by 20 million locked-up shares.
So up until mid-February, you can make an argument there's a lid on the stock.
But after that, barring a collapse in the price of Ethereum, I see the stock grinding higher for at least three reasons:
Transfer of shares from those seeking a quick payout to value investors who are slowly becoming more familiar with the cryptocurrency mining industry (and thus, HIVE).
Release of HIVE quarterly's numbers later in February that will show yes, the company is making money, lots of it.
The price of Ethereum going ever higher.
Investors complain about the large capital structure of HIVE at the investor conferences, but the company is a money machine; see page 5 from GMP report:

That's a gross margin of 87%, with a January 21st Ethereum price of $1070. If Ethereum breaks $1500 or even $2000 by end of the year, obviously annual revenue soars even higher.
The GMP report estimates 2019 EBITDA to be $199.4 million for a price-to-earnings ratio of 5.7. That's a ridiculous number usually given to sunset industry companies not to a high-tech industry in a sector going supernova.
But I suspect the Street will ignore GMP estimates until HIVE releases it's quarterly report in late February.
Nobody Wants to Believe – Because it's Crypto
Crypto-currencies are all very new to everybody, including research analysts, so the report states that while "HIVE's gross mining margins are exceptionally high at present" they also says "duration of returns and level of replacement capex required to sustain returns is difficult to predict."  So, "replacement capex" is buying new computers all the time to keep up your hash rate.
Four pages of the report discuss valuation models for HIVE and how they came to the $5.35 price target. I found most interesting the summary paragraph that states"

FCF = Free Cash Flow; not just EBITDA or cash flow but FREE Cash Flow
By the end of the year, HIVE will be spewing out cash at an astronomical rate but since it's cryptocash (as far as I know, HIVE is not planning to convert any it's Ethereum, Zcash, and Bitcoin to fiat (US or Canadian dollars)), the Market sees it as unreliable and volatile.
Therefore, instead of giving HIVE a multiple of 30 like other hi-tech companies, HIVE is put in the penalty box with only a multiple of 10.
Summary
Here is what I think is driving the stock of HIVE in the short term.
Investors who participated in the $1.50 financing who just want to get their money out and bank that sweet 100% return, and are currently shorting the stock
Old hand investors who are keenly aware of the February 12th deadline and so are holding off buying.
Institutional money that wants to get into cryptocurrency stocks but hates buying retail and would prefer another investor financing.
Day-trader who don't care whether the price goes up and down, but just want it to go in one direction.
Note what is missing from the list: retails investors willing to buy and hold for the long term.
Those guys will come aboard later in the year, I think, as quarterly reports are issued by HIVE and another cryptocurrency mining companies.
Somebody beside yours truly, GMP and a few other research analysts should start to notice that a forward P/E of 5.7 for a first-mover company in a sector going supernova represents ridiculous value.
And that's supposing Ethereum stays at just over $1000 USD. If think it's going to stay at $1000 or if it's going to crash, then you are reading the wrong investment newsletter.
But the good news is more than 40 days out. What will be the share price in the month of February?
Nobody knows, It's a game of chicken.