Things are looking up for public bitcoin miners as Bitcoin nears $4000 USD. It is now profitably to mine bitcoin again: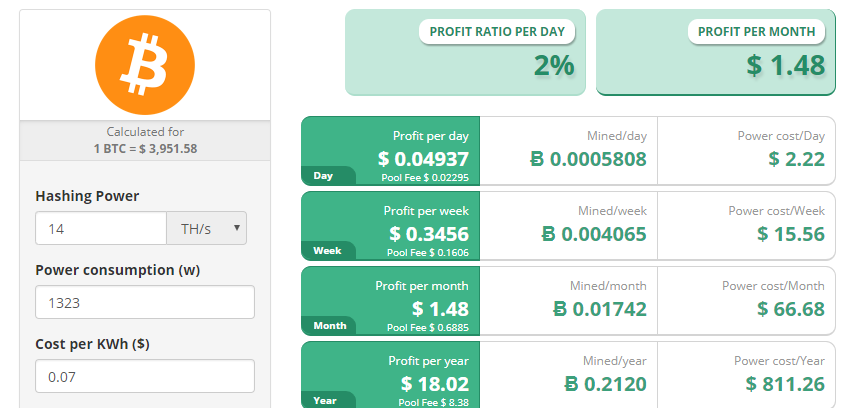 Virtually all the (surviving) mining companies have all-in costs of seven cents or lower per kilowatt. Some have all-costs as low as five cents.
With cryptocurrency still near the bottom of the worst bear market since 2014, most if not all the surviving bitcoin miners are cash-flow positive.
And that's with the Antminer S9, a mining rig that is last-generation and is due to make obsolete with the next generation S11 by Bitmain.
The S11 pumps out 20.5 TH/s of processing power while needing only 1500 watts of energy. That makes you $280 a year. The S11 is listed for sale in Europe at about $800 tax included.
But if bitcoin moves above $4500 then the numbers start to look very good. At $5000-$6000, the miners will turn into cash machines once again.Take for example, 
Cryptostar (CSTR-TSXv)
 operates 11,970 miners in the U.S.A., Canada and Iceland. Each of those miners generate, after expenses, about $25 a year cash, at current bitcoin prices.
But if bitcoin hits $5000, each of those miners, after expenses, would generate $225 a year US, for a free cash flow of $2.7 million USD.
The current market cap of Cryptostar (at 2 cents CAD per share) is $4.2 million CAD or $3.2 million USD.
However, all these numbers are just mere speculation. No serious investor is putting money into these stocks until the latest crisis is resolved.
Accountants on Strike
Many companies have been forced to change their auditors and are under the gun in filing financial statements which are required by the stock market exchange on which they are listed.
Nobody was willing to go on record, but many bitcoin mining executives are saying many auditors are under pressure from their governing body, the Canadian Public Accountability Board (CPAB) to withdraw auditing services from cryptocurrency companies.
Another story making the rounds is that some auditors simply did not have the expertise (or confidence) to successfully audit companies in the crypto market sector.
In any case, here is a short list of public bitcoin miners who have changed auditors recently:
1.       Fortress Blockchain (FORT-TSXv) changed auditors at the end of January.
2.       Hut 8 (HUT-TSXV) changed auditors on January 8th.
3.       DMG Blockchain (DMGI-TSXv) is no longer trading on the TSXv, having lost their auditor and only recently appointed a new one. There is no timeline yet for trading to resume (although it's still trading OTC in the US).
How Much Longer to Wait?
Nobody wants to buy a public company when there is even a rumour that they can't file financial statements. In the case of DMG Blockchain, you literally can't buy the stock. Trading has been halted.
But what happens to the share price of these companies if Bitcoin goes on another tear? Above $6000 USD and the yearly free cash flow is equivalent to their market cap.
Am I buyer right now? No. I am thinking there will be a window of opportunity to buy these stocks at firesale prices even if bitcoin hits $5000, because of the current accounting mess.
Just watching for now. But watching every day.
DJ
Note: I already own DMG, Cryptostar and Fortress Blockchain.