The chart of RIOT Blockchain (RIOT-NASDAQ) says it all .
In late March, it was trading at 65 cents, it's now trading above $2. That's more than a triple in less than two months.
Does it have more room to run? The chart says so but I will pass for now.
Instead, I bought Bitfarms (BITF-TSXv).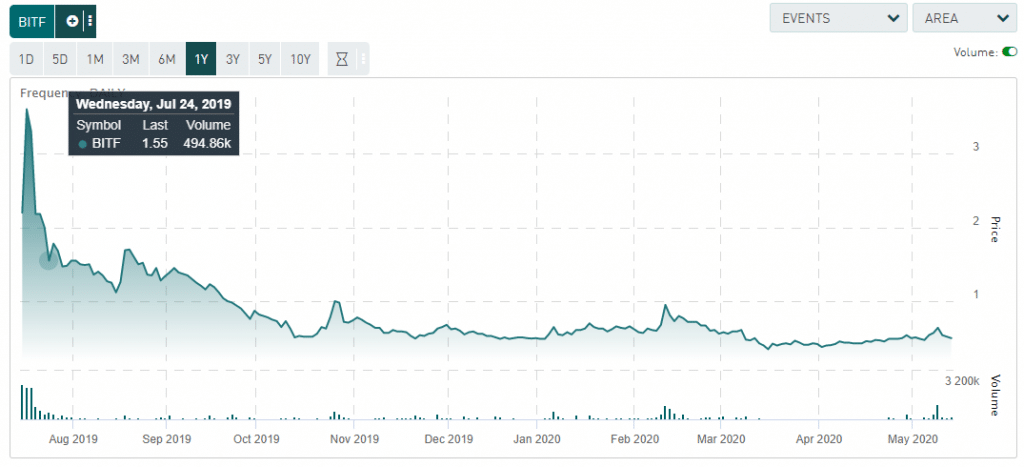 As you can see, it's hasn't started it's run (yet).
The companies are very similar but there are couple of important differences:
RIOT has a market cap of $71.2 million USD.
Bitfarms has a marketcap of $43.2 million CAD ($30.5 million USD).
RIOT is currently operating approximately 4,000 S17s with an aggregate hashing power capacity of 248 Petahash per second ("PH/s") between the Riot Oklahoma City, Oklahoma and the Coinmint Massena, New York locations.
According to Bitfarms' company presentation, they have 813 petahash of computing power.
Yes, that is correct, Bitfarms has more than three the processing power of RIOT, and trades at half the valuation.
The big reason for that is RIOT trades on NASDAQ and Bitfarms trades on the Toronto Stock Venture Exchange, and most US investors can't trade there. Instead, they have to trade on the OTC (over-the-counter) equivalent, which is not easy.
But in the boom of 2017, RIOT was one of the first crypto-stocks to take off. It led the way.
It was only later that publicly-listed blockchain/bitcoin mining stocks on the Canadian exchanges popped 5x-10x in a matter of months.
Let's see if it happens again.
DJ