Quit my job but before we get into that…
The only news I can offer you this  is that I have been accumulating Neptune Digital Assets (NDA:TSXV NPPTF-PINK).
It's a microcap listed on Toronto Venture Exchange that has been quietly accumulating altcoins, stablecoins, and Ethereum tokens, some of which have gone up 1000%.
Reported revenue this quarter of $6 million and market cap is currently under $100 million.
Bought some for under 40 cents earlier in the week.. Bought a lot more today around 69 cents.
Even if you visit SEDAR to read up on all the boring financial disclosure documents of Neptune, it's pretty opaque.
So do your own due diligence and none of the above should be construed as advice on investing
---
Anyhow, back to the reason why posting on the blog has been a little thin lately.
About three weeks I told my senior partner I didn't want to do anymore operations or admin stuff.
I have been busy ever since hiring new staff and getting them trained and up to speed. It's a process.
I have been in the investment newsletter game for ten years, running the office for the Profit Prospects Group.
That means taking care of the backend for a bunch of newsletters including: Investing Whisperer, Oil and Gas Investments, and Smallcap Discoveries.
Not to mention I have been writing for the New Currency Frontier for the last three years.
It's been a busy time. Too busy. Time to focus.
I'm going full time into crypto for two reasons, both have to do with money:
Firstly, I make more money trading in crypto then I did with my former "real" job.
Even in the lousy years of 2018 and 2019, I was making good bank hedging crypto-derivatives.
And of course, the last twelve months have been VERY good.
Even pricing in a 50% correction, it still makes financial sense to stick with crypto.
And the second reason is this chart: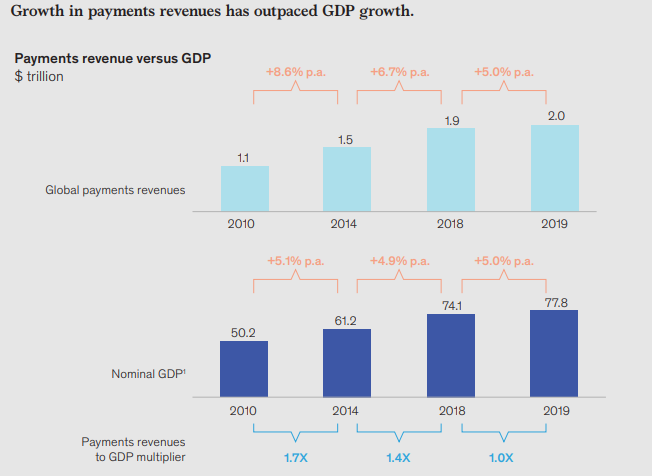 This is possibly one of the most boring bar graphs you will ever see in an investing newsletter.
It's from the 2021 report by McKinsey on the Global Payment Revenue industry.
But I want, in your head, to substitute "Global Payments Revenue" with the phrase "Money gouged out of the little guy by the Big Money Banking Bros."
TWO TRILLION dollars in transaction and service fees is what the BMBB skims off the global economy every year.
That's what crypto is all about. Setting up an alternate financial system outside the BMBB that will offer cheaper, faster solutions to the world population.
We can talk about making the world a better place but let's really be honest. A very small cut of that two trillion dollars should be able to feed my family and I, as went as splurging on the odd European vacation and a case of Scotch or two.
The revolution won't happen tomorrow. It won't even happen this year or next. But I'm betting it will come one day, gradually and then suddenly.
And where are we at today?
Let me quote one of my favourite dead white guys:
"Now this is not the end. It is not even the beginning of the end. But it is, perhaps, the end of the beginning."
Winston Churchill.
DJ