I do a zoom update with my paid subscriber group every month. This is what I told them last week:
Since 2015, there has been only one year when February did not show a month-over-month increase in the price of Bitcoin (2020)

We have been in a bear market for three months now

Crypto-bear markets lasting longer than one quarter (i.e. three months of negative gains) are extremely rare (hasn't happened since 2015)

Fed tightening looks to be priced-in

Chances of a relief rally in February look to be quite good

Will be buying SOMETHING in February
Last week I was sitting on a pile of cash. If you have been reading my newsletter since early December, you can guess that I have been VERY bearish.
My paid subs know I sold a massive amount of my holdings in early December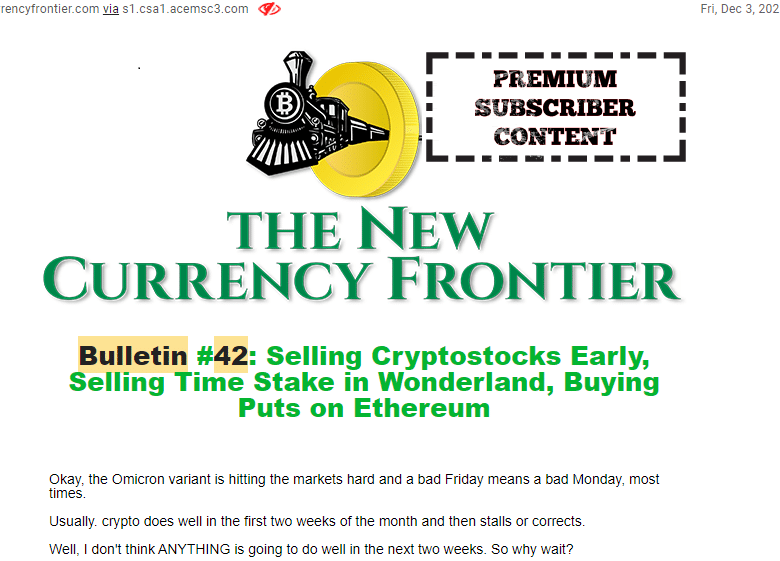 But this week I bought about $300K (USD) of crypto and crypto-related stocks. My timing wasn't great and those buys are down about 7% so far.
But I sold those assets in December and January. If I had held onto them, I would have been looking at a 40-50% loss.
Some of these stocks I'm buying are trading close to cash and crypto in the bank. So, I may buy more in the next couple of days.
I doubt I'm going to hold on to these investments for the rest of 2022.
I still think we are due for a massive correction on NASDAQ which will (temporarily) drag down the crypto-market.
But nobody is talking about those imminent US Fed rate hikes in March. Everybody still wants to party a little while longer.
Why should I stay on the sidelines and keep wearing the grumpypants? If the punchbowl still has some juice in it, I might as well refill my drink one last time.
(I hope you don't mind if I stay close to the exits and avoid eye contact. I'm kind of an introvert anyway.)
I have been a crypto trader now for more than four years. How do I decide when to buy and when to get out?
It's not hard.
Crypto is massively volatile. You need to look at a coin or token and ask yourself two questions:
What are the chances of this coin/token dropping 50%?
What are the chances of this coin/token doubling in value?
Then, if you think the downside is greater than the upside, you stay in cash.
If the downside and upside are about equal, you stay in cash.
If you think to yourself, I don't know when it's going to double, but it's got a chance, AND I just don't think it's going to drop 50% then for me its a buy.
If you stay in crypto long enough and buy enough coins, you will see a 100% return on one or more guaranteed. Heck, you will see 300%, 500% returns.
That's the easy part.
The hard part is not losing your bankroll before scoring big.
Let's look at bitcoin (btw I didn't buy any this month).
It's trading at $37K.
Will it drop this month to below $18k?
I just can't see that happening. That would be an epic fail that would call into question the very survivability of crypto.
Can it hit $75K this month?
I doubt it. But it's possible. I think it's more likely it will pop up to $60K than drop below $20k.
If somebody put a gun to my head and made me buy bitcoin this month, I wouldn't lose much sleep over it.
(I don't own bitcoin because I am putting my money in better opportunities, but I hope you see what I mean.)
If the downside is limited, then you can be aggressive.
But remember, I'm talking about February.
When March or April rolls around, I may put on the grumpypants one more time.
DJ