This week I sat down with Geoff Murphy, the CEO of Bitfarms, for a 47-minute interview.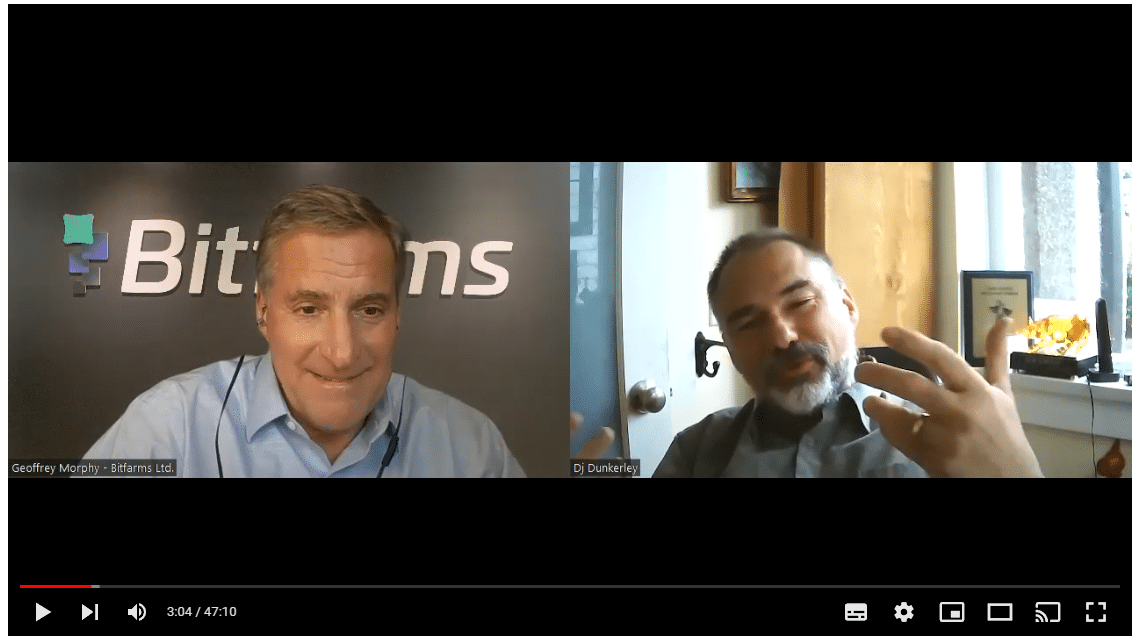 I'm sure some of you are rolling your eyes and thinking to yourself "What, another story on Bitfarms Ltd.? Why?"
And the answer is: since March, Bitfarms' price is up 38% in a flat market, Since the beginning of the year, it is price's up 177%.
And I think it still has room to run as more and more investors discover the space.
If you know of another sector that's been hotter this year than the miners involved in the public Bitcoin mining sector, please send me an email.
Here is a summary of the interview, if you want to pick-and-choose what topic to listen to.
Summary
Introduction to this episode.
Introducing Geoff Murphy, CEO of Bitfarms Ltd.
Geoff background and background in financial and operational banking.
How did you decide to move into crypto?
Jumping from board to day role to president and CEO.
Moving into mining cryptocurrency in 2020.
How Bitfarms has grown from a Canadian company to an international company.
Operation and ownership, staying online
Retail and institutional are involved in Bitcoin mining.
Two types of investors, retail and institutional.
Retail vs institutional.
Efforts to attract institutions to the space.
Bitcoin mining stocks and prices in 2023.
Canadian brokerage houses vs. American brokerage houses.

Cantor Fitzgerald, American brokerage house.
Brokerage houses in Toronto, Canada vs US brokerage houses.
Expected consolidation in the industry and need for capital via securities.
Environment and public attitudes in the media.
The sustainability of the mining industry.
Being 100% renewable for the longest time.
How to measure environmental compliance and reporting.
New York Times hit piece on Bitcoin mining, causing sell pressure.
The second objection, stranded power.
How to monetize stranded power?
The advantages of stranded power in Argentina.
Bitcoin mining maximizes energy efficiency of remote hydropower.
Value added analysis of the data is becoming more important.
Bitcoin mining and the cycle of capital.
The current state of the mining industry.
Mining machine technology is plateauing, or at least for now, for now.
Computers are evolving.
Three year payback period for mining machines.
Some companies are paying for the latest machines, despite high cost.
The regulatory and business environment in different countries.
In-house management critical for Bitcoin mining firms
Risks and regulations and trading in different countries.
Regulation in the Bitcoin mining industry.
Regulatory changes in Quebec.
What are the challenges of going to South America?
Challenges in South America, Argentina and Paraguay.
Getting miners fully deployed
Challenges with getting a Bitcoin account and new miners in Argentina.
Server farms in Norway vs Europe, and why they didn't want to go there.
Country watchlist
The benefits of being in the game.
The benefits of being in the game.
Mining more Bitcoin during the China ban as average hashrate dropped
Getting debt under control and capex requirements under control.
Working hard to find new opportunities
Validating transactions on bitcoin blockchain now generating signficant revenue
Bitfarms Ltd. Interview
00:02
Hi everybody, this is DJ Dunkerley of New Currency Frontier. And I have with me, Goeff Murphy of Bitfarms. Bitfarms is a public Bitcoin mining company, based in North America, although it has sites in Latin America, US and Canada. If you've been following New Currency Frontier for years, you know about  Bitfarms because I've been following this company since 2020. And I've written numerous stories on it. And I do own stock in this company. So keep that in mind that I am an investor. This is also not a paid promotion. As usual. There's been no funds transferred to me by Bitfarms for this interview. Although if I see Geoff at a trade show, I'm going to hit him up for free drinks, as I normally do, because that's what us journalist guys do. So anyways, enough about me. Let's begin. I'm excited to do this interview and to  pick the CEOs brains of Bitfarms. So Geoff, let's just ease into this interview, can you tell me a little bit about the business and yourself?
01:00
Sure, DJ. As mentioned, I'm Geoff Morphy. I joined Bitfarms pretty much just over three years ago. My background is financial and operational. I came up through the commercial banking system and got to know credit and risks and how to structure and arrange money and do those type of things. I then worked for a boutique investment banking firm, doing a number of restructurings, arranging money for high growth situations.