Oomph, this picture says it all! This is from the OFFICIAL Twitter account of the Securities Exchange Commission of the US: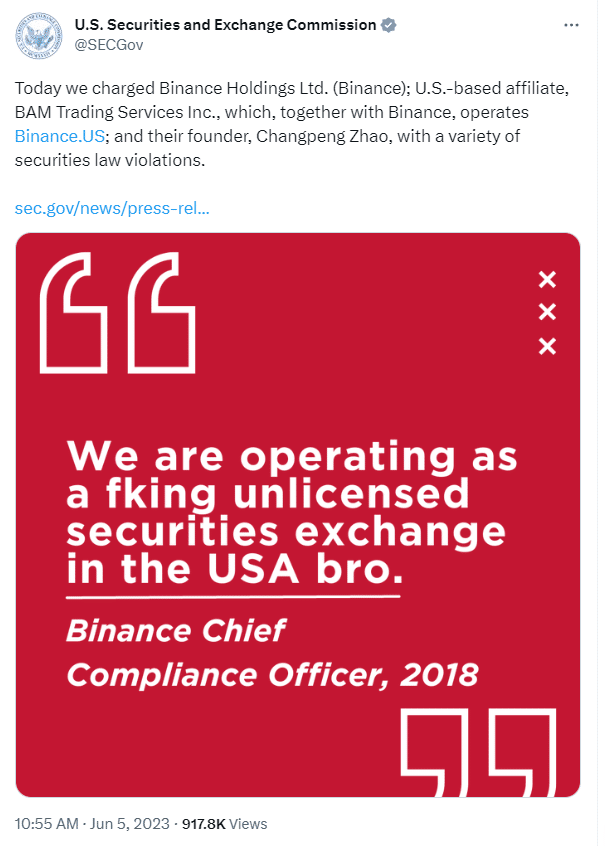 Today we charged Binance Holdings Ltd. (Binance); U.S.-based affiliate, BAM Trading Services Inc., which, together with Binance, operates https://t.co/swcxioZKVP; and their founder, Changpeng Zhao, with a variety of securities law violations.https://t.co/H1wgGgR5ir pic.twitter.com/IWTb7Et86H

— U.S. Securities and Exchange Commission (@SECGov) June 5, 2023
Rumours that the SEC was going to go after Binance have been circulating for months. Indeed, the SEC has been extremely busy this year pretty well suing everybody, including Coinbase, Kraken, and FTX (albeit a bit late on the last one).
Once the news came out, bitcoin fell more than five percent to $25,650 and Ethereum is down about the same, to $1806.
To me its surprising that Bitcoin and Ethereum didn't fall more, as there is no liquidity in the market. Maybe they will tank some more overnight.
What's my opinion on this?
I have to be honest. This is getting tedious.
I have been a full-time trader/newsletter writer in the crypto space since late 2017. I bought my first bitcoin in 2014.
Even BEFORE the FTX debacle in 2022, various US regulatory authorities have been trying to shut down various crypto-exchanges such as Bitmex and Bitfinex.
If you haven't heard of those exchanges before, that tells me you weren't a crypto trader before 2019.
Based in Hong Kong, Bitmex and Bitfinex were the biggest players in crypto before the US crackdown started around 2019.
There's also Tether. The attorney general of New York State went after them in 2019 and hauled them into court. They are STILL in court fighting it out, as far as I know.
Nowadays, it's hard to keep track of all the crackdowns.
But back to Binance.
Everybody gets excited when the SEC comes in with guns blazing, but so far all the charges put forward by the SEC are CIVIL, not criminal.
That doesn't mean the Department of Justice, or DOJ can't be brought in if during civil discovery, the SEC finds enough dirt.
But right now, nobody is going to jail.
Let's summarize what the SEC is saying:
SEC accuses Binance "unlawfully engaged in unregistered offers and sales of crypto asset securities", including BNB, BUSD, and various taking services Other securities include SOL, ADA, MATIC, ATOM, ALGO, and more
Binance's CCO: "we are operating a fking unlicensed securities exchange in the USA bro"
SEC: "Zhao directed Binance to encourage certain U.S.-based VIP customers to circumvent the new KYC restrictions"
Binance internally used Market makers that CZ "owned and controlled", and enabled "manipulative trading on the Binance US platform
SEC :"BAM TRADING AND BAM MANAGEMENT ENGAGED IN ACTS AND PRACTICES THAT OPERATED AS A FRAUD AND DECEIT UPON, AND MADE FALSE AND MISLEADING STATEMENTS TO, INVESTORS."
https://twitter.com/ChainDebrief/status/1665759198100045825
Note that Binance has its own crypto-token, the BNB, also known as Binance coin. It dropped 10% today.
To be honest, I would have thought it would have dropped more.
There are two ways this can end, in court or with a settlement.
Right now Binance is not giving an inch:
We are disappointed that the U.S. Securities and Exchange Commission chose to file a complaint today against Binance seeking, among other remedies, purported emergency relief.  From the start, we have actively cooperated with the SEC's investigations and have worked hard to answer their questions and address their concerns.  Most recently, we have engaged in extensive good-faith discussions to reach a negotiated settlement to resolve their investigations.  But despite our efforts, with its complaint today the SEC abandoned that process and instead chose to act unilaterally and litigate.  We are disheartened by that choice.
While we take the SEC's allegations seriously, they should not be the subject of an SEC enforcement action, let alone on an emergency basis. We intend to defend our platform vigorously.  Unfortunately, the SEC's refusal to productively engage with us is just another example of the Commission's misguided and conscious refusal to provide much-needed clarity and guidance to the digital asset industry.
https://www.binance.com/en/blog/ecosystem/sec-complaint-aims-to-unilaterally-define-crypto-market-structure-8707489117122437402
And so, unless a miracle happens, we are going to court.
What is the track record of the SEC when its forced to actually go to court and prove their accusations against various crypto exchanges over the last five years?
Well, they haven't won a case yet, as far as I know. Maybe Binance will be the first one.
But I'm not betting on it.
DJ