Right now, "blockchain" is a sexy word that companies use to get investors to give them money—and its working. Very well.
But I would feel safer investing in blockchain companies that make money, if I could, RIGHT NOW…however, that is, for the most part not going to happen anytime soon.
The next best thing I look for is…companies that have finished saleable product. Better yet, products that are
easily understandable,
have obvious uses
are in demand by the marketplace.
If you have a good product that people (or companies) want, then inevitably the revenue will come.
That's why I invested in Blockchain Intelligence Group (BIGG) when it was a private company at 35 cents. It has several working products, and investors flocked to it; it last traded on the Toronto Venture Exchange at $1.70.
I see the next big product winner being a new IPO called Venzee—which went public Friday Jan 5. I bought a private financing in it before it went public—symbol VENZ-TSXV and SNSFD-OTC, and I've been accumulating it Friday and today.
What is Venzee and What Does It Do?
Venzee (the product) is awesome. It's a software-as-a-service (SAAS) that allow suppliers to deliver compatible product information to their retailer such as price, colour, picture of the product, and model. Using Venzee, suppliers create what is called a "live product feed" which eliminates the need for spreadsheets to be passed back and forth between the supplier and the supplier.
Venzee uses artificial intelligence "AI" to make it all happen and gets products online and into the marketplace, fast which means revenue for both the supplier and retailer.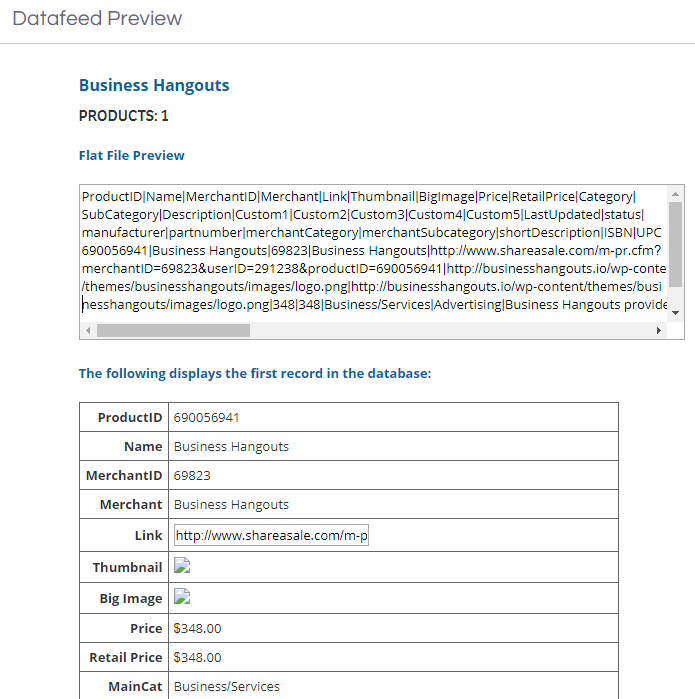 Using AI instead of human clerks for data entry allows for automation, speed and 100% accuracy. Eliminating human error reduces waste and cost, improving the notorious razor-thin margins in retail for both the supplier and the supplier.
The picture above is a sample of a typical product feed from a company called "Business Hangouts." Obviously, every company with products to sell keeps all their product information in a database.
However, how to export the product information form one database (the supplier) to another (the retailer)? That's where Venzee comes in.
Using artificial intelligence, Venzee automates the process of sending product information to the retailer.
Best of all, it's not blue-sky tech. Venzee is not only working NOW, it has Fortune 500 clients.
I am not investing in an unknown technology. I am investing in product that has marketplace acceptance in the $23 trillion retail industry. This tech now has huge potential for blockchain applications, connecting everyday apps and enterprise solutions with blockchain networks. It's a good day when you can minimize risk and still swing for the fences.
If you are retailer, you need to get product information from your suppliers entered into your database. Oftentimes, the database can require 200 plus fields to input.
Done manually, to input each product into the database could take up to five minutes. Now multiply that number by two or three, or ten, maybe even thousands.
Surprisingly, most data in the supply chain industry is passed between suppliers and retailers via spreadsheets. The process is as cumbersome as it sounds.
The use of artificial intelligence to read the spreadsheet from a supplier and input it automatically into the retailer's database automates the process.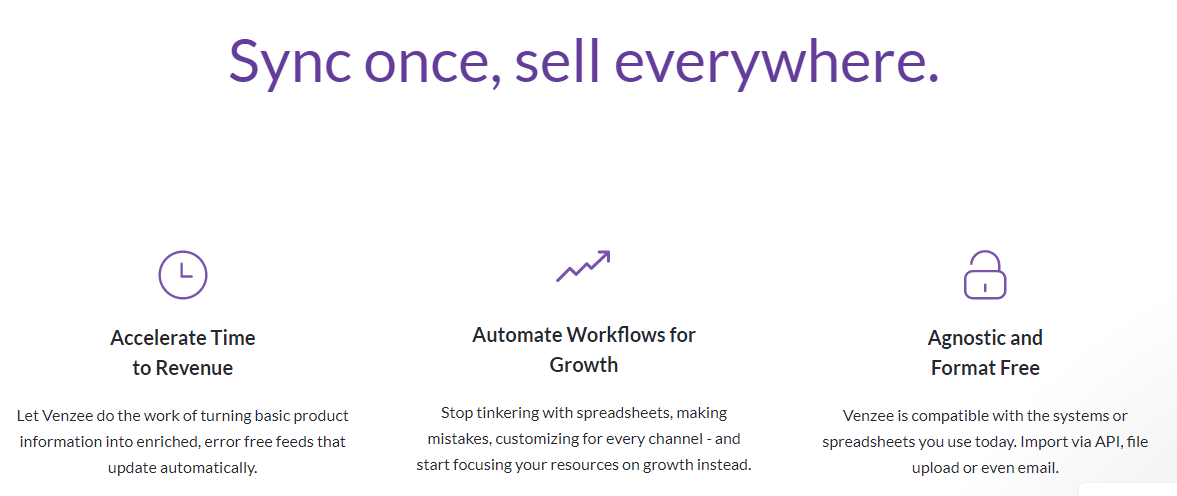 Cost savings are immediate. Large retailers like Walmart have entire departments that manage their product databases. Automated tools like Venzee allow for greater accuracy in data-entry as well cutting the number of people who have to manual input the product information.
But What Does This Have to Do with Blockchain
Blockchain is a new kind of database and just like the databases we've been using for decades, they require data in a certain format. And just like the retail industry, everyone from banks to oil and gas companies are using different systems with different data formats.
If you want a universal blockchain, all the data needs to fit into whatever data standard the blockchain is using. You need a front-end that can take everybody's unique data set and format it to fit.
You need a Venzee for blockchain. And Venzee (the company) is working on leveraging their technology and expertise for that. It's called Mesh.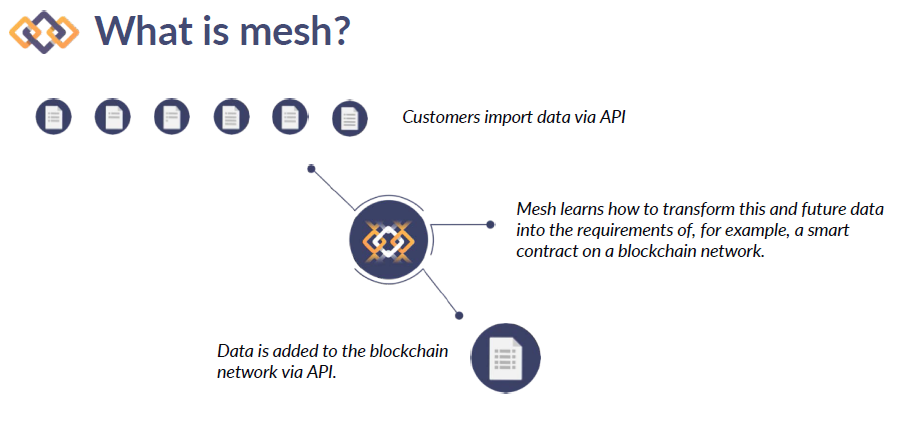 Using Mesh, companies can connect everyday apps or enterprise solutions to blockchain networks for the purpose of data exchange. Mesh does the work of turning data from existing systems into the correct format for blockchain and will also include failsafes that remove or encrypt sensitive data before it becomes immutable on blockchain. Just like Venzee, is powered by AI.
"Since [blockchain is] a decentralized database of immutable records," CEO Kate Hiscox said in a statement accompanying the announcement, "there are serious concerns about accidentally [using] wrong or sensitive information." Martechtoday.
Mesh is currently in closed beta and is slated for release in the first half of 2018.
Every day it seems some financial or healthcare organization makes an announcement that they are moving into blockchain. But blockchain doesn't magically fix data standards. Before you set the data in a blockchain, you have merge, filter, clean, and validate the data.
But Venzee has already attracted notice from a big tech publications as a solution to that problem:
"If you think about the blockchain, it's really just a fancy new database, one where you have to ensure that the data going in is correct or you face having bad data in a system that is supposedly immutable and irrefutable. That would be a real problem.
Hiscox's company has created a product called Mesh to deal with this". Techcrunch (6.5 millon montly readers)
You don't want to use Mesh? Okay, hire a developer to write custom software to connect all the systems you use and transform the data from your company into a format that is acceptable for a blockchain network. Think weeks and months of work.
Company Share Structure
All-in-all, there is a total of 64,545,695 shares out, which gives the company a market cap of just over $100 millon CAD.
Six million shares plus a half-warrant were issued at 50 cents in an investor financing; they are not free trading until April 2018.  Another four million shares were issued in at 50 cents without a warrant, and they are free trading now; the total free trading float is about 10.4 million shares.  The warrant for 75 cents at 2 years can be accelerated; meaning the company can force the shareholders to exercise if the stock trades over $1 for 20 days.
I see Venzee as being very similar to Blockchain Intelligence Group (BIGG), which I wrote up here. At present, BIGG is trading just north of $1.60 with a market cap of slightly more than $50 million.
Venzee closed on Friday at $1.32 and I managed to accumulate some at $1.30. On Monday I bought a bit more at $1.37.
Management Team
Kate Hiscox is the Founder and President of Venzee. Her LinkedIn profile is here.
Kate has worked for 18 years in ecommerce and supply chain management. Her first startup, Lunawarehouse.com, was acquired within a year of launch in 2004. Since then, Kate has successfully navigated through three additional start up exits.
Peter Mackay – CEO. His LinkedIn profile is here.
Peter is an experienced executive with an entrepreneurial mindset with 20 years of experience. He has a proven track record of building and growing successful technology businesses with two successful exits and a public listing. His previous company, Expert Agent, is the leading real estate SaaS solution in the UK with 14,000+ realtors and almost 9 million home buyers as clients.
Conclusion
The best part about Venzee is getting in on the ground floor just as the product is taking off. Venzee already has:
Companies signed up from around the world including China
One of the largest manufacturers of beer deployed Venzee into their nationwide distributor network in Mexico.
A global retailer launched on Venzee in Q3 and has started promoting Venzee to thousands of suppliers whose products they sell.
I expect a steady news flow of new customer signings in first quarter 2018.
In addition to Venzee, there is also the sexy blockchain component Mesh. When will Mesh generate revenue? I don't know. I don't know when ANY of these private blockchain solutions will be implemented. But the industry space is too big to ignore.
However, with Venzee, I get to indulge the "greed" factor of investing in a company with blue-sky potential while being to able to sleep at night.
Ross.
Venzee management has reviewed and sponsored this story.
The information in this newsletter does not constitute an offer to sell or a solicitation of an offer to buy any securities of a corporation or entity, including U.S. Traded Securities or U.S. Quoted Securities, in the United States or to U.S. Persons.  Securities may not be offered or sold in the United States except in compliance with the registration requirements of the Securities Act and applicable U.S. state securities laws or pursuant to an exemption therefrom.  Any public offering of securities in the United States may only be made by means of a prospectus containing detailed information about the corporation or entity and its management as well as financial statements.  No securities regulatory authority in the United States has either approved or disapproved of the contents of any newsletter.
Ross Pilot is not registered with the United States Securities and Exchange Commission (the "SEC"): as a "broker-dealer" under the Exchange Act, as an "investment adviser" under the Investment Advisers Act of 1940, or in any other capacity.  He is also not registered with any state securities commission or authority as a broker-dealer or investment advisor or in any other capacity.