Coinbase has now more users (13 million plus) than the Schwab brokerage house (10.6 million customers).
Most of those customers have been added in the last six months. Coinbase had one day where they added 100,000 customers and one week where they added 300,000.
There is no hotter market on the planet than the crypto-exchange sector. In fact, it's so hot that other exchanges have given up and are not accepting new customers, as I wrote about in my previous story "You Want Bitcoin, You Can't Have Any"
You see the exchanges simply can't intake that many customers and remain compliant with anti-money laundering (AML) and know-your-customer (KYC) legislation.
Crypto-exchanges are not getting a free pass from regulators. Earlier this year, the U.S. Treasury's Financial Crimes Enforcement Network  fined the Russia-based BTC-e exchange $110 million for ignoring "know your customer" laws.
The U.S Treasury hammered BTC-e in part because they tracked stolen Bitcoin from the Mt. Gox heist back in 2014 to the BTC-e exchange.
And it's not just the US as well. China is working on rules to force the use of real names to open Bitcoin accounts. The European Union is expected to write into law tougher AML rules for the crypto-exchanges that should go into effect the first quarter of 2018.
The exchanges are stuck between vast amounts of new customers on one hand and the AML and KYC legislation on the other. What can they do?
Automated Tools are the Answer
There are more than 21 million Bitcoin wallets in the world. On average, there are 350 thousand Bitcoin transactions every day. With that volume, it is impossible for the exchanges to manually verify each wallet or that each transaction is not being used for money-laundering or for the funding of criminal enterprises.
The need for an automated tool to help with AML/KYC is urgent.  Fortunately help is on the way.
I have written about Blockchain Intelligence Group (BIGG) before, here and here. The BIGG have been working for years with clients such as the US Department of Homeland Security to track money laundering via Bitcoin transaction.
But their most important product, or the one with the most market potential has just gone out of closed beta and is now available for any one to use. It's called BitRank Verified®.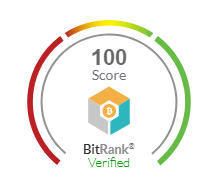 By using BitRank Verified®, crypto-exchanges are able to "risk-score" transactions and grade them from one to 100. The higher a risk profile assigned to the transaction, the lower the score. Using jargon that is like music to financial regulators, BitRank Verified® is a financial risk management platform.
At first, you might think that BitRank Verified® is useful to the users, as they can now get a "credit score" on any Bitcoin wallet they might send to. And that is a correct assumption.
However, BitRank® is really a godsend to the crypto-exchanges, who can start to grade transactions by their users and generate reports that will be very interesting to compliance investigators.
BitRank® acts as a wonderful filtering mechanism. Let me explain:
You remember those 13 million plus accounts at Coinbase? Well, Coinbase asks for photo ID when you sign up, but can they really verify the ID documentation of all 13 million accounts? Not in your lifetime.
However, with BitRank Verified®, they can run daily transactions and flag the accounts/transactions that look suspicious.
How many of Coinbase's users are laundering money? Ten percent? One percent? Well you need to filter out the 90 to 99 percent of users who are upstanding citizens, so you can focus your efforts on the bad guys.
Regulators love daily reports that give an overview of the entire customer bases. BitRank® can do that.
As an Investor in BIGG, I Also Love Bitrank Verified
Many years ago, I used to work in software development for a very successful high-tech company. The CEO was fond of holding meetings with the product teams and saying over and over:
"It's not enough to create value for the customer. You must capture some of that value created for the company so that I continue to pay your salary."
The software industry is filled with people who want to make useful products for the user, that is not the problem. But getting the user to pay for software in the era of "free Google applications"? That is the problem.
But the users of Bitrank Verified will pay, I practically guarantee it. Remember the $110 million fine that the U.S. Treasury gave to BTC-e? Every CEO of every cryptocurrency exchange knows about that story.
Having your crypto-exchanges labelled as a haven for money-laundering will spoil your day very quickly.
The crypto-exchanges can easily pay for this service,. The first 10,000 lookups are free, and after that it's a penny a lookup.
With Bitcoin at $16,000 USD, and trading fees as high as 10% on some exchanges, and withdrawal fees as high as 5%, a penny a lookup is a ridiculously low sum.
Conclusion
At present, with all the exchanges in complete lock-down mode, there are still 350,000 plus transactions per day. How many transactions will take place by the end of 2018? I would guess there will be millions in Bitcoin alone daily.
In five years time, there will tens of millions of transactions daily, either in Bitcoin or in another blockchain currency.
But for that to happen, the crypto-exchanges must show they can fully comply with the AML and KYC that is currently applied to other financial institutions. They can't do that without sophisticated tools to help them.
But once they get those tools in place and the regulators are onboard, then then you will really see the big institutional money and even more retail money move into this space. It's the regulatory constraints that are stopping Bitcoin from hitting $80.000, nothing else.
BitRank Verified® is the first-mover in this market space; right now, I see no other competitors (if you do, please email them to me). Their product is working and available to the public.
In a year or two, BitRank Verified® will capture a huge share of the market for grading cryptocurrency transactions.
And the customers of BitRank – not just the crypto-exchanges, but really any financial institution dealing in crypto,  will gladly pay for that service.
Ross
Disclaimer: I own shares in BIGG (Blockchain Intelligence Group)