Soon, New Currency Frontier is to become a paid subscription service.
I will still write general interest articles for the public. But I what I am buying and selling, and the reasoning behind it all, will disappear go behind a paywall inside the Members Centre for our subscriber base.
Most of my trades will be on publicly traded companies; regular stocks that have a crypto angle either at the core of its business, or on the edge of it.
This stock—one of my last free reports—is in the latter camp.  It has an existing fintech business that is cash flow neutral now, and some amazing upside in the crypto space—which I don't think has any real cost to the business.
I've started to accumulate Mogo Finance Technology Inc. (TSX:MOGO) (NASDAQ: MOGO).
MOGO is a Canadian fintech company that offers personal loans, mortgages, and free credit scores online or on your mobile phone.
They will soon offer prepaid VISA cards and – this is first what caught my attention – the ability to buy and sell bitcoin.
You see, they are going to allow you to buy and sell crypto for just 1-2%–versus the 10% or more you can pay at some exchanges.
By leading the commoditization of crypto buying, I think MOGO attracts A LOT of new business very quickly, increasing their customer base and the activity of their customers across all their financial services—all of which generates fees for MOGO.
This catalyst should happen through the summer of 2018, so I'm getting positioned now.  On any good news, I will buy more.
As Mogo scales up (adding new subscribers) and scales out (adding new revenue-generating products to their suite), their income statement should look better every quarter.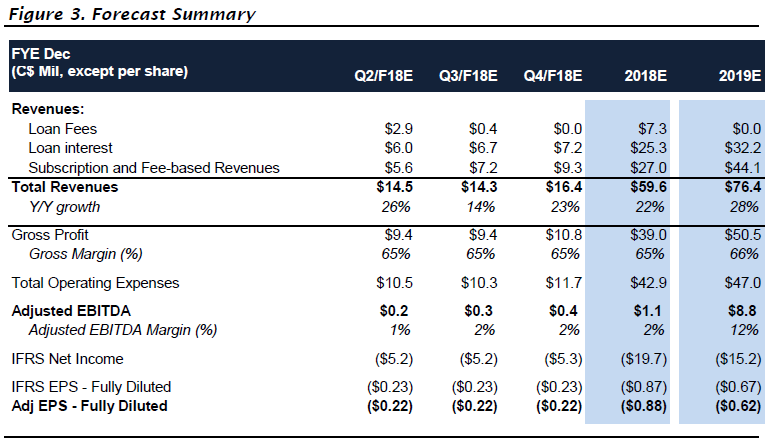 Source: Eight Capital
MOGO released it's first quarter 2018 results on May 8th: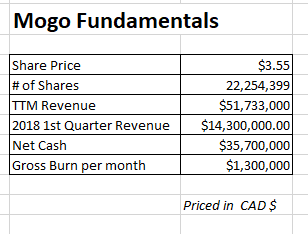 https://www.prnewswire.com/news-releases/mogo-announces-first-quarter-2018-financial-results-300644247.html
Last week I sat down with Gregory Feller, the CFO and president of Mogo, for a hour-long discussion on the future (and the history) of the company.
The company is still burning cash, but with nearly $36 CAD million in the bank, they can go at least a year (probably two) without having to tap the markets or asked the bank for more money.
Why do I think Mogo has such huge potential?
Mogo has invested $150 million CAD in its financial application which enabled the membership base to grow 53% last year, to 603,000:
This chart, from MOGO's investor presentation, says a lot: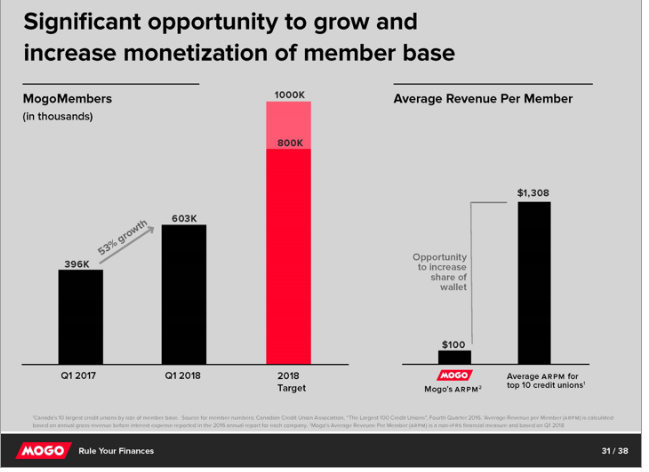 Mogo is aiming to crack 1 million members by end of the year.  I'm not saying they will, but they are moving in the right direction.
The bars on the right show the amount of revenue that Mogo is extracting from each member, versus what the average credit union gets from their membership.
The disparity is huge, Mogo gets $100 while the credit unions extract an average of more than $1300.  Obviously, I am hoping they can close that gap.
There are two reasons for this gap.
First, Feller admits that millennials (young people) make up most of the Mogo user base. That's great in the long term, but in the short and even medium term, millennials just don't have as much money as their parents.
Of course, there are 10 million millennials in Canada, and in the US they are flocking to such fintech companies like Stripe and Robinhood to do their banking and trading.
"Look at the US – fintechs are dominating the apps stores [in both Apple and Google Play]" said Feller.
Secondly, while expanding their suite of products, Mogo still doesn't `offer the wide range of products you can get at a credit union.
For example, in my Mogo app I can apply for a line of credit and a mortgage, buy some identity fraud protection, and look up my credit score for free.
But I can't get a credit card (yet) or do any stock trading.
Mogo is heavily promoting their new service (Mogocrypto) that allows members to buy and sell bitcoin.
But the service is ramping up slowly as the company is sending out only about 500 invites a day. The plan is to ramp up to 1000 invites a day by June.
Mogocrypto will allow members to fund their bitcoin account in 30 minutes or less via INTERAC.
This is technologically more difficult to accomplish then you might think, because of the risk of fraud.
If there is loophole in the software that allows a hacker to fraudulent execute any transaction, that would be… very bad.
With regard to every other crypto exchange out there, it can take days to fund your account.
The Mogo funding target of 30 minutes or less is very ambitious.
To summarize: the opportunity to extract more revenue in exchanges for services from existing members is huge.
They have grown 50% in the last year to their current 600,000 users.  So getting to 1 million is an achievable goal over the near to medium term.
This stock has already had one HUGE run on the idea its crypto offering is real.  Being as it has a real business behind it, lots of cash and $150 million in proprietary software platform development—and I'm getting the crypto upside for free basically—this idea makes sense to me.  And it has an imminent catalyst, as the bitcoin service scales up.
At the Bottom There is Good News
The stock chart doesn't look great right now but there looks to be light at the end of the tunnel: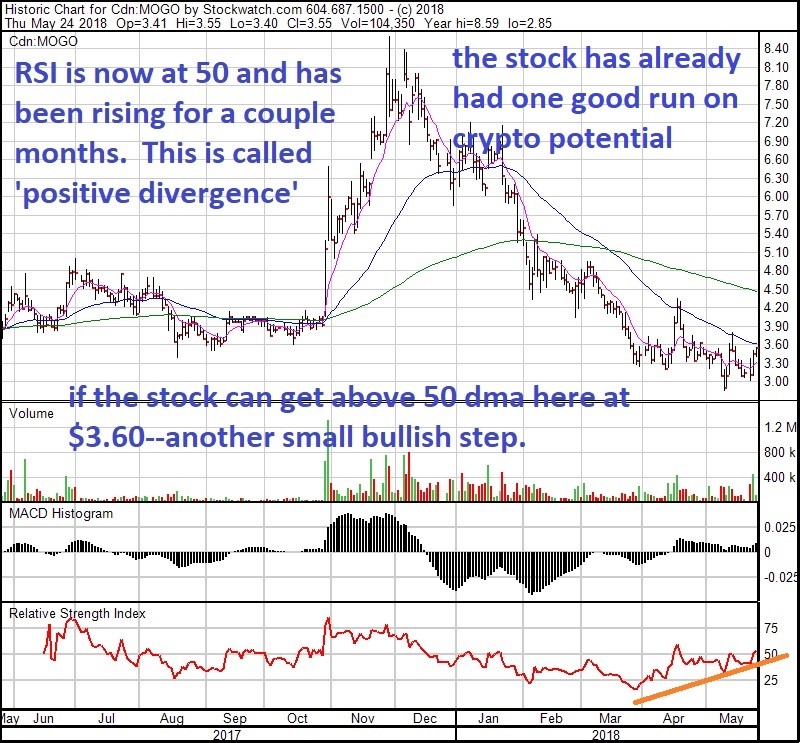 Mogo debuted on the TSX almost two years ago at an IPO price of $10 CAD.
For an extremely brief period, it was the darling stock of the Toronto Stock Exchange. Fintech companies had a glorious future.
Then, in the US, the Lending Club (LC-NYSE) company—the benchmark small cap fintech stock in the US–went from $35 to $3.50 in less than a year.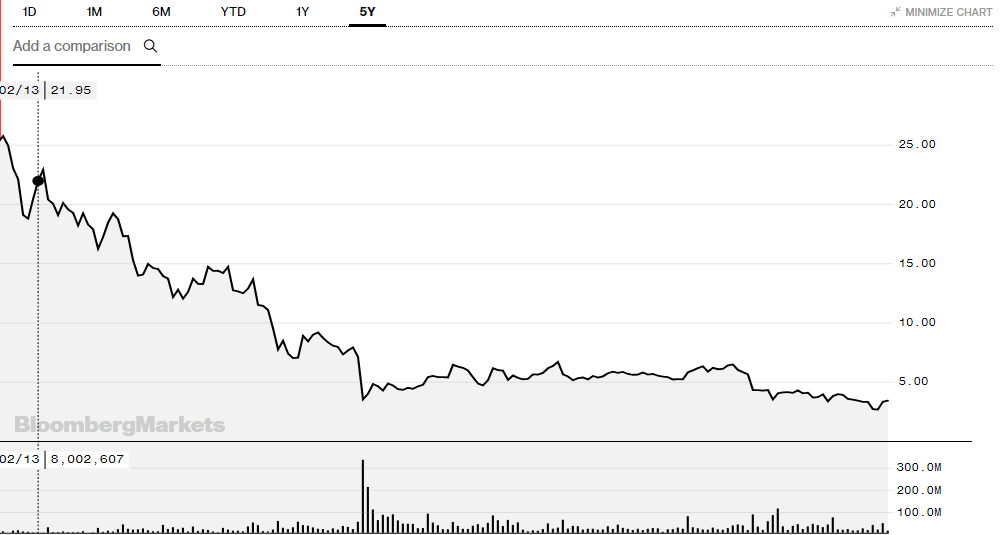 "It had nothing to do with us, but we were caught up in the perfect storm," says Feller.
The markets decided that online lenders weren't really fintech companies and not deserving of fintech valuations.
At the time, most of Mogo's revenue was from online lending, so it was caught in the downdraft.
There have been two private financings with Mogo. In January 2014 there was a financing at $5.00 a share, and in January 2015 there was a financing at $8.00 a share. Both financings are currently underwater.
A LOT of brokerage houses that promoted the Mogo deal were left with eggs on their faces.  It wasn't so much that money was lost (it's the stock market after all) it's that money was lost REALLY QUICKLY.
Fast forward to late 2017, Mogo goes on a promotional binge promising their users would be able to buy and sell bitcoin, with ads in the Postmedia papers like the National Post.
In the very brief crypto/blockchain euphoria of late 2017/2018, Mogo moves very quickly from $2.50 to $7.50. There's only 22 million shares in the float with MOGO…with such a small float only a small amount of buying or selling can create big moves in the share price.  That is called leverage.
In two years Mogo has gone down 70% as the management team has poured money into building the app and setting up a suite of products.
So twice Canadian investors have been burned on this stock. That's means Mogo is in the penalty box and the only way to get out is to report solid numbers in the quarterlies. That's going to take some time.
As Feller notes, the company has completely transformed the business, "but the stock hasn't gone anywhere."
I don't expect the love to come quickly. When Mogo hit $7.50 in late December, the short interest was more than 10% of the total float—likely due to Bitcoin's volatility. It's currently under 1%.
Having said that, some analysts are noticing that the company is winding down it's loan-fee business (which the Street hated and gave a low valuation) and is moving towards a subscription fee model (which the street loves).
The forecast is for the loan fee business to be wound down by 2019 and for the subscription-fee business to almost double: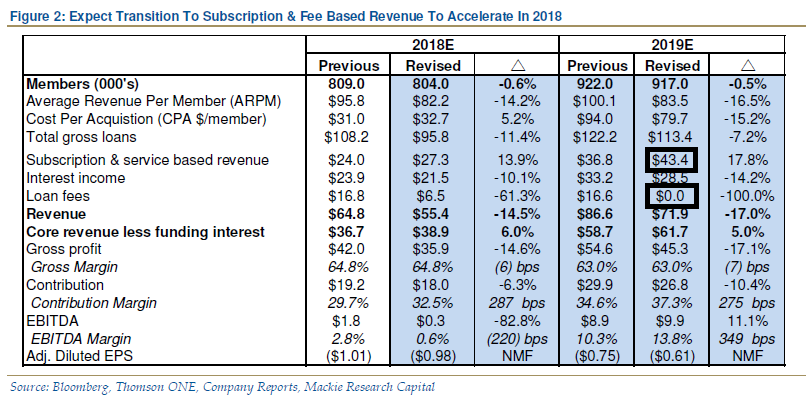 Conclusion
But I did buy an initial position in the stock at an average cost of $3.31 and I may add more to my position in the coming months…as the company grows.
MOGO is building up a subscription-based service, which (trust me on this one) can be VERY painful in the first two years.
It's not just building the product or platform that burns cash.
For a starting company, customer acquisition can sometimes be even more expensive.
But as the business matures, product development costs level off or can even be cut and customer acquisition costs can drop dramatically with scale.
The product development of Mogo can stay the same size whether they have 500,000 members or 5 million.
Funny enough, a big reason why Mogo got hammered in the first quarter of 2018 is because many investors thought it was a cryptocurrency/blockchain company.
But it's not. It's a fintech company with a growing subscription-based revenue model that is just beginning to get notice.
Ross
P.S. Interested in buying and selling bitcoin on the Mogo platform? If you have access to MogoCrypto, you can get account funded in less than one hour with no funding fees.
Here is how you can move to the head of the line to get access:
Email me at ross@newcurrencyfrontier.com and put in subject line: I want early access to Mogo.
I will let my contact at Mogo know which accounts should be placed at the front of the line. Note: Sorry this offer is only for residents of Canada.
Disclaimer: Ross Pilot is not a registered investment dealer or advisor. No statement or expression of opinion, or any other matter herein, directly or indirectly, is an offer to buy or sell the coins/securities mentioned, or the giving of investment advice.