A triple-whammy crackdown is roiling the cryptocurrency markets with the altcoins tanking 20% (or more) and bitcoin down to $7500 from its monthly high of nearly $10k USD.
Here is what's happening around the world:
US Government Opens Criminal Probe into Bitcoin Price Manipulation: The United States' Justice Department has reportedly opened a criminal investigation into possible market manipulation of prices of cryptocurrencies including bitcoin by traders."
US, Canadian Regulators Launch Dozens of Crypto Scam Probes: An "international crackdown" on cryptocurrency scams was launched Monday by a group of securities regulators in Canada and the United States.
Cryptosweep, according to statements, constitutes "nearly 70 inquiries and investigations and 35 pending or completed enforcement actions since the beginning of the month." More investigations are said to be underway, though it's unclear when any related enforcement actions will be unveiled.
Bitfinex to Hand Over Customer Data to Government: Bitfinex started to send out emails to all its customers recently. The email informs that they will start reporting certain information from its customers' accounts to the British Virgin Islands (BVI) government.
The move will most likely drive some of its customers away from its platform. Many people have chosen cryptocurrencies precisely for its anonymity. Reporting data to the government is the complete opposite of it.
A well-known community of cryptocurrency traders, @Whalepool, didn't waste time in voicing its opinion via Twitter. @Whalepool goes as far as suggesting its followers withdraw their money from Bitfinex in protest.
Number #1 and number #3 are related. There have been rumours for years that that trading pools have been manipulating the price of Bitcoin through Bitfinex so as to profit from future trading on Bitmex. I even wrote about this phenomena here: Explaining the Insane Volatility of Bitcoin.
Traders who like to profit from illegal manipulation of the markets also tend to be the type of people who don't like to pay their taxes. Hence the flight of capital from Bitifinex.
With regard to #2, the only question I have is: What took them so long?
You don't have to be Sherlock Holmes to notice that a LOT of ICOs are shady as a giant fern on a sunny day. Like a three-page website and an Ethereum address for suckers to send their money.
The sheer brazenness of the ICO industry astounded those investors used to trading in the junior markets like the Toronto Stock Venture Exchange and the Canadian Securities Exchange.
I remember listening to one presentation at North American Bitcoin Conference in Miami last January and presenter (who was pumping an offshore ICO that involved gambling) actually said "We're going to try to make this as legal as we can."
Like, legality is an option to be considered for these people?
And now the hammer is dropping.
But What Does That Mean for Investors?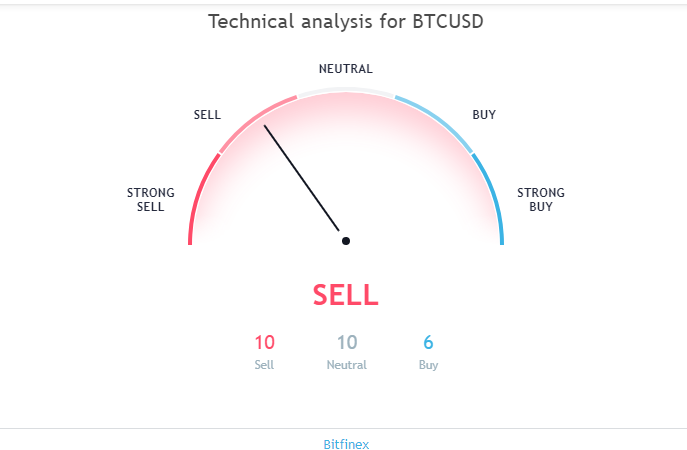 Taken from http://coinfarm.online/
That is the technical analysis for Bitmex, the largest bitcoin futures exchanges in the world. However, that measure is extremely volatile, it has varied from "strong sell" to "buy" in the space of 12 hours.
Combine that with low volume normally seen on US long weekends (it's Memorial Day on Monday), and we could see some wild price swings come Saturday and Sunday.
Unless you want to be glued to your screen instead of frying steaks on the BBQ, I would suggest a strong dose of hedging.
In the long run, (for those of us interested in the long run), regulation is not necessarily a bad thing.
Putting the bad guys out of business is not a bad thing. But you can't expect them to not complain (or in this case, dump and run).
Ross