During the summer, I noted that the most efficient bitcoin miners were profitable with bitcoin below $7000 and that nobody would care.
I was right.
Cryptostar (CSTR-TSXv) commenced trading early this week on the TSX Venture Exchange. It closed at today at six cents.
With 208 million shares out, that gives the company a market cap of $12.5 million CAD.
How profitable is Cryptostar? In first quarter 2018, it raised at least $21.5 million in a private financing which allowed them to buy a fair number of mining rigs.
Management isn't saying how much money is left over from the financing, but based upon interviews with other sources, I would estimate they have 10,000 S9 Bitmain mining rigs currently running.
Note that even before the financing, Cryptostar had bitcoin mining facilities in Utah, Newfoundland & Labrador, and Iceland, with total capacity of 4.84 megawatts.
Using our very handy online Bitcoin mining calculator, we come up with these numbers: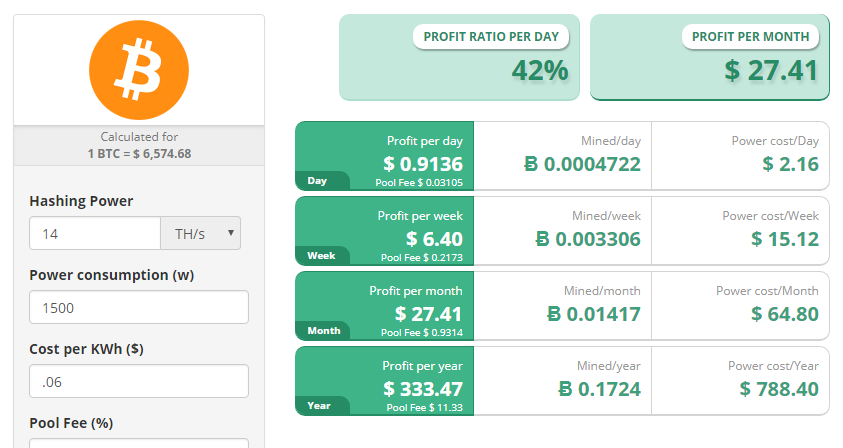 Taking the $333.47 and multiply by 10,000, we get $3.33 million USD a year, or $4.3 million CAD.
By the way, you remember the Bitcoin hashrate that supposedly eats into the miner's profits month by month? It's been flat since the beginning of August.
That $4.3 million is free cash. The six cent per kilowatt I plugged into the calculator is for all the expenses of the bitcoin mining centre, not just electricity.
Please Wait and Hear This Before Buying
At first glance, Cryptostar to looks to be the dream pick of any value investor. Market cap to cash flow of 3 to 1? Sign me up.
But look closer before throwing your money into the pot.
Trading volume on Thursday was 1.335 million shares. On first day of trading (Tuesday), about the same.
Friday's trading? It only traded 10 thousand shares, or $600!
The daily trade volume is not even 1% of the company float and this is in the first week of trading, when volume is usually quite high. Trading volume is going to drop, very fast.
Many bitcoin mining stocks on the Venture Exchange trade at less than $10K volume a day.
But let's be optimistic and count on some sort of news coverage that bumps up volume.
Remember back in early 2018 there are investors who paid 50 cents per share in a private financing and thought that was a great deal. And now on paper they have lost  almost 90% of their money.

Worse yet, while crypto was tanking on the Venture Exchange all through 2018, cannabis stocks were soaring. The guy down the street made a fortune while Cryptostar shareholders got hammered.
I have spoken with a few of my fellow investors (Yes I was in on the financing) and to say they are not happy is…. An understatement.
There 43 million shares owned by some pretty unhappy investors and trust me, most of them want to dump the stock and forget it ever existed.
At current trading volume, you are looking at 6 weeks of dumping by unhappy shareholders and that's if volume goes back to a mllion shares a day, which I doubt very much.
With many shareholders looking at a 90% loss, there's a good chance some will say what is the difference between 90% and 95% or even 97% loss.?
You could easily see stink bids get filled at 2 or 3 cents.
Could the market cap drop to the point where it's the same as free cash flow ($4.3 million)? I have never seen that in all my decades of investing, but there's a first time for everything.
Editor's Note:

It's not all bad news in the crypto/biockchain sector. DMB Blockchain, my largest holding, closed this week up 18% to 33 cents on  news it's signed a joint venture with IBM on some blockchain initiatives.
I'm also waiting for bitcoin mining contracts to be announced sometime  as their massive 60 megawatt facility in British Columbia is scheduled to be completed this month.
When contracts will be in announced? Days, weeks, or months? That is the million-dollar question.
DJ