Who controls the world of crypto? Who will be the world leader in the new financial ecosystem? The war has started years ago but is seldom reported in context.
The battle is not being fought on land or sea but in a courtroom. This is the latest news, a win for Hong Kong
:
"Yesterday, in Manhattan, Bitfinex and Tether filed a motion to dismiss the proceeding brought by the New York Attorney General's office on the grounds that (1) the Attorney General's office lacks jurisdiction over Bitfinex and Tether, which do not do business in New York state; (2) New York's Martin Act does not apply to the companies' businesses; and, (3) the Martin Act cannot be used extraterritorially to compel a foreign corporation to produce documents stored overseas. Bitfinex and Tether also sought an immediate stay of the Attorney General's document demands.
Today, the Hon. Joel M. Cohen of the New York Supreme Court (Commercial Division) entered an order granting our motion for an immediate stay of the document demands, requiring the companies to produce only documents and information relevant to the limited issue of whether there is personal jurisdiction over the companies in New York but staying the document order in all other respects. Justice Cohen scheduled a hearing on our motion to dismiss for July 29, 2019."
Notice on Bitfinex website, May 22, 2019
Make no mistake, this isn't about whether some company broke some obscure financial regulation or not.
It's about who is going to control the new financial system that is cryptocurrency.
Will it be the markets or the US regulatory authorities?
Crypto is Evolving Faster than the Gatekeepers Can Regulate
On one side is Bitfinex, one of the oldest and largest crypto-currency exchanges in the world, based in Hong Kong.
Not coincidentally, the same group of investors behind Bitfinex is also behind Tether, the largest US stablecoin in the world, with a market cap of $2.9 billion USD.
On the other side is the New York Attorney General's office.
The first shot in the latest battle came on April 25th, when NYAG Letitia James announced that she had obtained a court order against iFinex Inc., which operates both Bitfinex and Tether, ordering them to cease violating New York law and defrauding New York residents.
The NYAG alleges that Bitfinex "borrowed" $850 million from Tether to cover losses caused by  the previous relationship Bitfinex had with Crypto Capital.
To this day, Bitfinex claims the $850 million is just "frozen" while the NYAG claim the funds are gone (presumably forever).
At first, markets reacted negatively to the news.
Bitcoin fell 10 percent. Tether lost it's peg against the US dollar, falling to 98 cents. There was capital outflow from the Bitfinex exchange.
But then a funny thing happened. Bitfinex fought back.
Bitcoin stabilized, and then started to head up (again). Tether is now back to its one-to-one peg with the US dollar.
On May 16th, a New York court order Tether to stop any further transfer of funds to Bitfinex.
But a bombshell had dropped a few days before, on May 13th. Bitfinex managed to raise $1 billion from private investors in a token sale.
It doesn't need to borrow any more money from the Tether money that is held in trust.
Bitfinex hasn't won this battle conclusively, but it's on a winning streak.
Why Does NYAG Even Care About Bitfinex?
The nuances of the case against Bitfinex could take pages to describe but there's no doubt that Bitfinex has been moving money around in a secretive fashion.
On the other hand, what right does an attorney from the state of New York to sue a crypto-currency exchange based in Hong Kong?
That is the billion (possibly one day, trillion) dollar question.
The NYAG claims Bitfinex has clients who live in New York state. Bitfinex claims otherwise. Certainly, Bitfinex stopped accepting applications from all US residents years ago (I have a Bitfinex account but I am Canadian).
Plus, unlike other crypto exchanges (like Quadriga), no has ever lost money on Bitfinex (the exchange was hacked in 2015 but eventually paid out all affected customers).
The assertion that NYAG is looking out for the "little guy" while filing suit against Bitfinex seems a tad ridiculous. So what is the real story?
If I Can't Have the Cookie, Neither Can You
It's no coincidence that New York is home to the largest banks in the world (Goldman Sachs, JP Morgan, Chase, et al).
At present, these institutions are on the outside looking in, when it comes to running cryptocurrency trading desks.
Exchanges like Bitfinex and Bitmex have revenue in tens of millions of dollars per month, but more importantly, are growing rapidly.
Bitmex has said their trading volume grew 129x in 2017 and is still growing.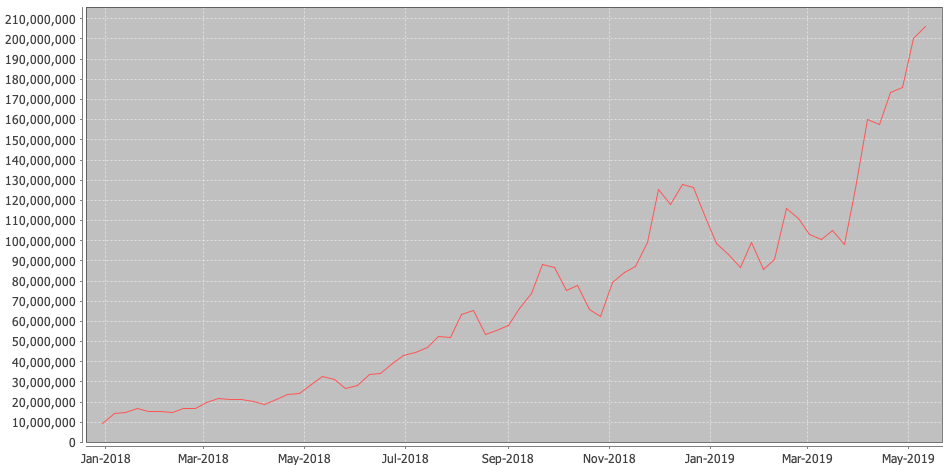 Trading fees from traditional stock trading has been stagnant for years.
Fees from trading crypto are skyrocketing.
And the New York banks are shut out of the market, because of foot-dragging by US regulatory agencies like the Securities Exchange Commission.
So what is the next best thing to do?
Stop the runaway train, or at least slow it down until you can jump aboard.
Is the New York Attorney Office filing injunctions against Bitfinex because they are worried about the "little guy" getting ripped off?
Or is the New York financial community worried about missing out?
You can decide that question for yourself.
DJ