I have taken a small position in Galaxy Digital Holdings Ltd. (TSX-GLXY), a Toronto Venture exchange company with an opaque share structure and very low liquidity.
On an average day about $50k of stock is traded.
The stock closed today just above $2 and there is 66.93 million shares out, giving it a market cap of just under $130 million.
Galaxy caught my eye with this press release:

When the management team of a TSX list company announces a buyback program, that can only mean one of three things:
The CEO and board are collectively crazy (A golden rule of public small cap companies is to hoard cash. Always hoard cash. Because if you run out of cash, you're dead.
The company has no intention of buying back stock but is just trying to attract attention to the stock, believing it to be undervalued.
The management team truly believes the stock is undervalued, and want to accumulate more of it. For whatever reason, they can't buy more stock themselves so they get the company to buy it.
It's a rare case that it's really number three, but it does happen. A classic example is the Newport buyback, except that the management team were really sneaky and bought up the stock without even issuing a press release.  See the write up on Newport from our sister publication, Oil and Gas Investments newsletter.
In any case, it's worth investigating any company that is proposing a share buy-back.
But before we can proceed, we need to understand how the company is structured.
The public vehicle, Galaxy Digital Holdings, holds a 23.55% stake in another corporation called the GDH LP, a Cayman Islands exempted limited partnership, as stated on page of the August 28th interim financial documents listed on SEDAR: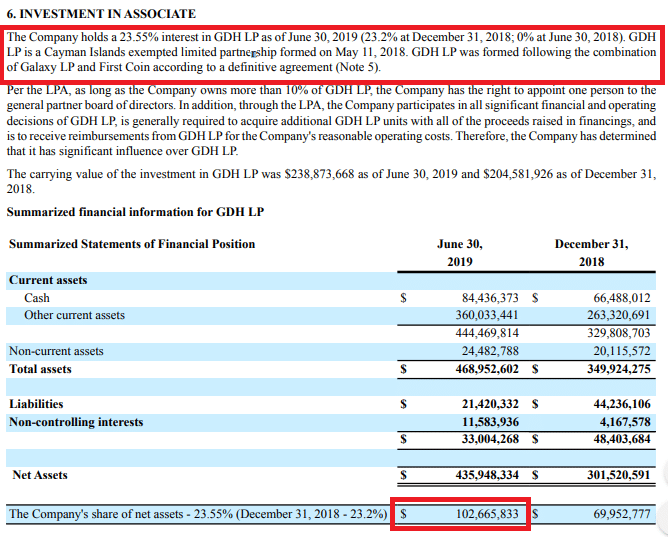 But remember, if you are buying Galaxy Digital Holdings on the TSX, you are buying the entity that only 
owns a little less than one quarter
 of the Galaxy Digital Holdings partnership, which owns all the assets.
Note that with a market cap of $130 million, Galaxy Digital Holdings Ltd. (TSX-GLXY), is trading at a premium to net asset value of about 30%.
Who owns the rest of GDH LP? That would be Michael Novogratz, the CEO.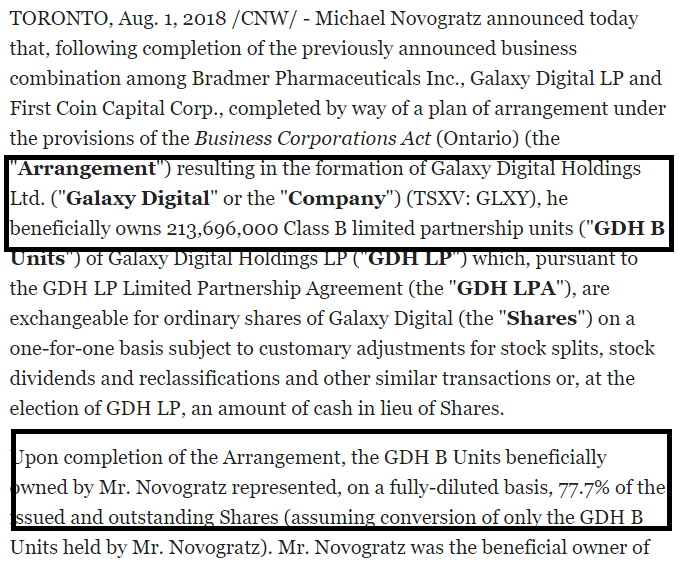 What are Assets Owned By Galaxy?
Let's look at the interim balance sheet of the limited partnership (not the public company), released to SEDAR on August 28th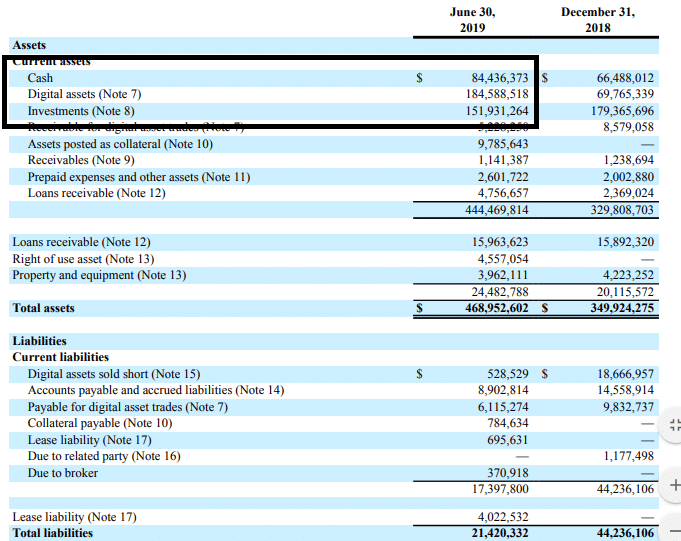 With small cap companies, cash is king, and the holding company has lots of cash: $84.4 million.
That's good.
But now we need to shed some light on the digital assets and the investments held by the GDH LP.
Here is the list of the digital assets:

Note that all the digital assets have gone down over the last three months, altcoins especially.
For example Wax has dropped more than 50% this summer.
Fortunately, Bitcoin has dropped the least and that makes up most of Galaxy Digital's digital asset portfolio.
Lastly we have the investments: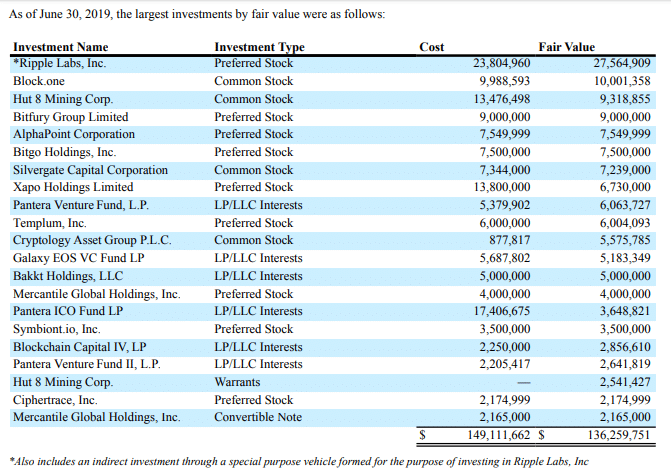 On the other hand, this stock is as close as you can get to buying an index fund on all things crypto, so if you are interested in that, there you go.
But Galaxy Digital is like many crypto-stocks out there. If crypto starts to boom with bitcoin hitting $20k and the altcoins doubling in a week, then of course it will take off
Until then, I don't think it will go anywhere, and there won't be a lot of trading volume.
DJ
Editor's Note: I own a small position in Galaxy Digital. Nothing that I write should be construed as advice on investing.