In the short time I have owned it, it's been the most entertaining stock to watch in my portfolio (and considering I am a crypto guy, that is saying something).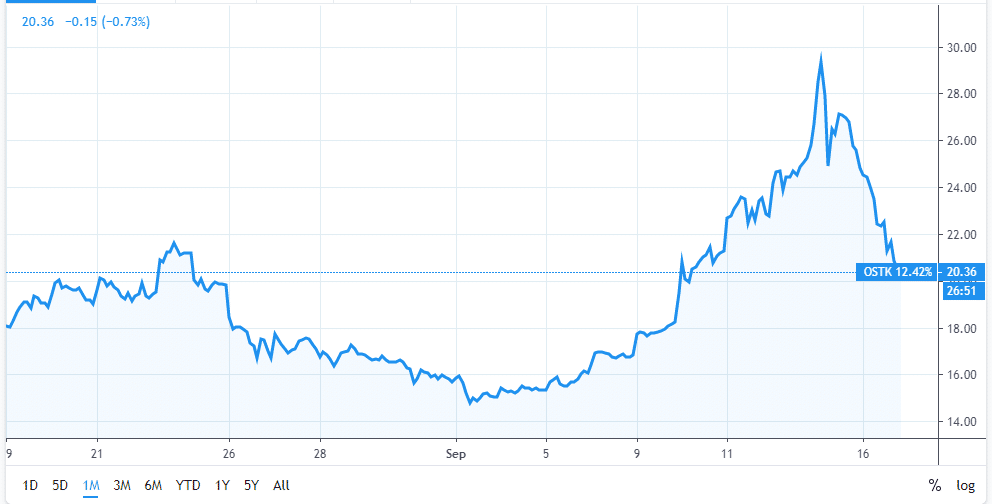 In one month, 
it's gone from $18 down to $15 then up to $30 and then crashing to just above $20.
The chart makes bitcoin look like a savings bond.
What is the reason for the massive spike in volatility?
Well, if you have been following the Overstock saga, you would know it's been heavily targeted by short-sellers who for months who believe two things;
The primary revenue-generating business Overstock.com is slowly (or quickly) losing market share and will eventually disappear.
The blockchain investments made by the company (the chief one being tZERO) will eventually prove to be worthless.
There are a great many investors out there who think the true value of Overstock is zero and are willing to put their money where their mouth is by shorting the stock.
However, On July 30th, Overstock.com (OSTK) declared a 'digital dividend' – announcing plans to issue .1 "Digital Voting Series A-1 Preferred Stock" shares for every OSTK share owned.
The record date for the dividend will be September 23, 2019 and the distribution date will be November 15, 2019.
Therefore, with one week left before the record date for the dividend, there is considerable uncertainty in the market as to how this will all play out.
Will short sellers now be forced to register with Overstock in order to cover dividends owed other shareholders?
Will Overstock not allow the preferred securities to be loaned out, thus forcing short sellers to buy the highly illiquid security?
As of yet, nobody knows. At present, shorting Overstock looks to be a crazy-risky bet (but on the other hand, owning it is a wee bit exciting as well).
But that is not stopping traders from buying and selling;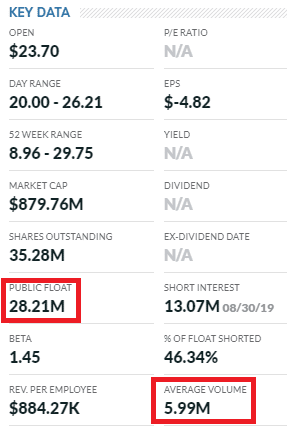 https://www.marketwatch.com/investing/stock/ostk
Note that the public float (free-trading) is 28.21 and average volume is about 6 million. One hundred percent of the shares turn over in one week or less.
The velocity of the share trading is not decreasing either: volume today was more than 9 million shares.
Eighteen million shares traded on Friday, that is more than half the public float!
If you hold Overstock for more than a week, you are a long-term investor. More than a month, you must be related to Warren Buffett.
What is the Little Guy Supposed to Do?
There are many moving parts to the Overstock stock. Keith Schaefer, who runs one of our sister publications, has an excellent write-up on Overstock that is available to his paid members group. You can sign up there if interested in reading more.
As for myself, I believe tZERO to be the key to whether Overstock finally beats the short sellers in the long run.
There hasn't been any news on tZERO since September 12th, when it was announced that it has partnered with BLOQ FLIX, LLC, the first blockchain entertainment financing company, to provide technology services to tokenize BLOQ FLIX's finance options for the entertainment business.
There were no dollar figures attached to the news but assume every financing would be for $20-50 million and at 5%, that is $1-$2.5 million in fees.
Nice if it happens. GREAT if it happens.
But I think until tZERO proves itself (hopefully first or second quarter 2020), then share price will get batted around like a ball of wool in a kitten orphanage.
DJ
P.S. Overstock isn't the only company covered by the Investing Whisperer. Keith is especially excited about one tech company that is trading at 1X revenue. You can read more about it here.