This morning I sold off the last of my bitcoin mining stocks. As far as crypto goes, I own a lot of bitcoin, some shares of Overstock and some shares of Galaxy.
I would like to say I sold because I knew bitcoin was going to dump down to $8200 from $9500 this afternoon but I'm not that smart.
I have been selling the last few weeks because liquidity has been drying up in the crypto-stock sectors.
Look at the trading depth of my favorite bitcoin mining stock, Hut 8 (HUT:TSXV).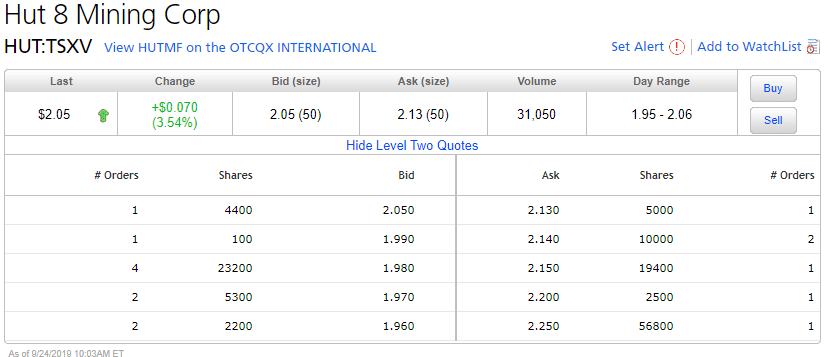 Hut 8 has a market cap of $170 million CAD but if you placed a market order to sell $10k worth of stock, your trade would move the stock down to $1.98 from $2.13
That's brutal. A $10K trade drops the stock seven percent. Nobody can make money trading an illiquid stock like that.
When the dump in bitcoin came later that afternoon, the stock cratered to close at $1.89.
And Hut 8 is the best of the best in the crypto-stock sector.
It's the same all across the sector. I didn't even bother to try to sell my few shares of Galaxy (GLXY:TSXV):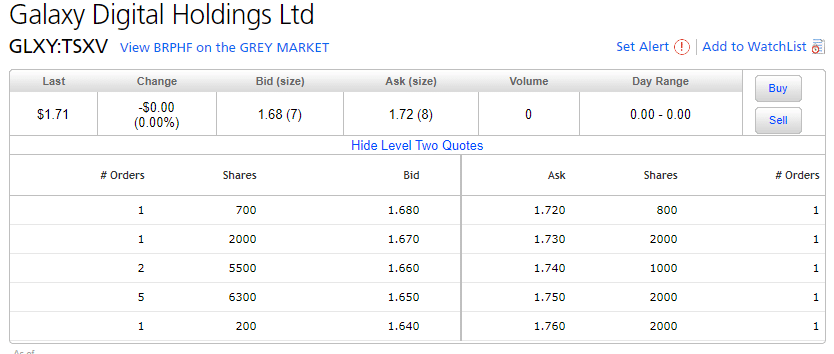 Note that trying to sell $10k worth of Galaxy would take the price from $1.72 down to $1.65, or a slip of more than 4%.
That is better than Hut 8 but this is a stock where supposedly the company is doing a buy-back!
Galaxy finished the day at $1.53, down 10.5%.
Meanwhile, as mentioned in an earlier story, I have been buying gold stocks, where trading volume remains heavy. Here is a look at African Gold (AGG:TSXV).
It has a market cap of $26 million, or one seventh of Hut 8.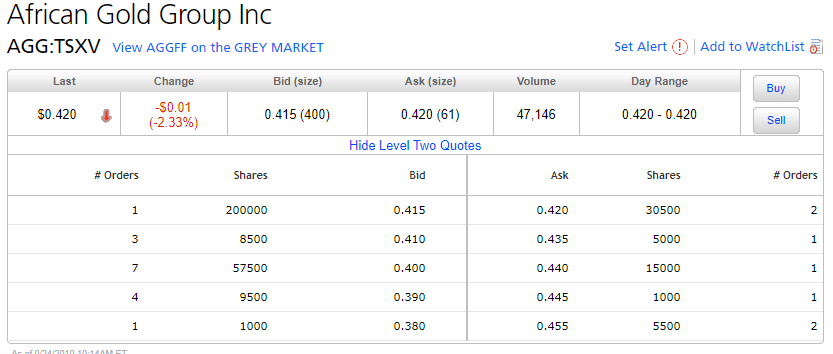 The difference is striking. Here a $10k sell gets filled with only a half-penny slippage. To move the stock four percent down, you would need to sell more $109K of stock.
It's blinding obvious that small cap investors are fleeing the crypto-stock sector and pouring into the precious metals space, fundamentals and promises of the future be damned.
And so, we shall follow, for now.
Of course, if bitcoin pops back to $14K then the crypto-stocks will soar again.
But not today, and I don't think this week either.
DJ
As stated in article I own shares in Overstock, Galaxy Holdings, and African Gold Group Inc.