These guys have picked some winners over the last decade.
I have known Paul and Brandon since 2014, and I have made six figs in trading profit off their recommendations.
It's been a tough year for Canadian microcaps, but if you think a bounce back is due, then you should read their stuff.
And they have allowed me to publish a ton of their picks.
So enjoy.
Are Canadian Microcaps coming back to life?
At our third annual Smallcap Discoveries Conference, held just a few weeks ago in Vancouver, Paul (editor in chief here at SCD) said the next multi-bagger was quite likely in the room today.
Possibly a multi-bagger like BioSyent (RX.V / BIOYF) – up nearly 400% from our first profile – or maybe even an XPEL Technologies (XPEL:NASDAQ) – now up 5563% from when we first alerted investors in our network (yes you read that right… over a 50-bagger).
We felt that way because in a tough market like this when investor interest is low is precisely when the best opportunities arise.
We have a saying:
"We don't buy when there is blood in the streets, we like to buy when there is no one in the streets."
Eventually value is recognized in the market. The big unknown though always is… timing.
Well in just 2 weeks since the conference, our timing looks pretty good. We are seeing early signs investor money is finally flowing back into Canadian microcaps.
And 2 of our presenting companies are on their way to becoming multi-baggers so fast it made our heads spin…
Just look at the performance of the companies that presented at our event a few weeks back: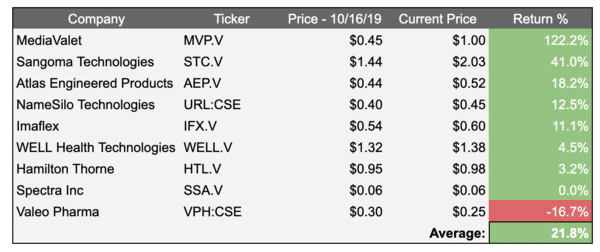 Only 1 of the 9 companies are down. If you bought a basket of these stocks, you'd be up 22% so far. One company – MediaValet – is up over 120%.
And that's just in a 2 week time period!
What's driving this? Fundamentals are part of it. But we think psychology is most of it.
It started with Sangoma Technologies (STC.V / SAMOF:PINK), which we covered in our last dispatch to subscribers. The day after the conference, they announced record earnings, beat guidance by 10%, and announced an accretive acquisition with 90+% recurring revenues.
The market cheered and sent shares up almost 40%: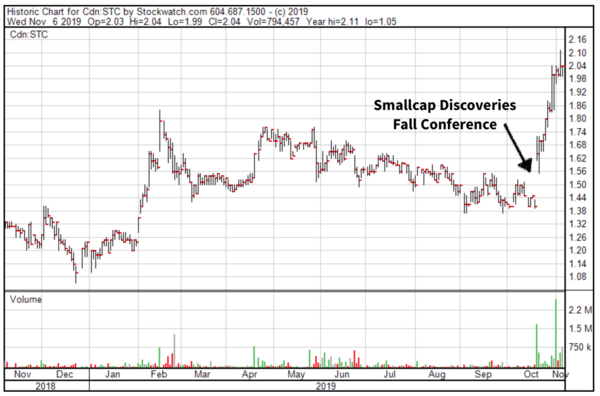 This company is now up 400% from the $0.34 it was when we first brought it to subscriber attention.
Now investors are asking themselves… what could be the next Sangoma?
And you're starting to see some of the larger microcaps we cover, like Hamilton Thorne (HTL.V / HTLZF:PINK) with increased volume and a climbing share price.
Xebec Adsorption (XBC.V / XEBEF:PINK) is another larger microcap we follow at SCD with rock-solid growth fundamentals. They too hit a 52-week high this week – all on no news.
Take a look at the chart, it's a thing of beauty: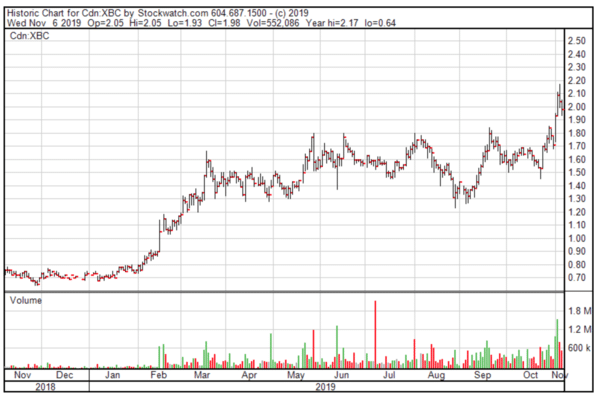 And what's started with larger microcaps is trickling down to the smaller, undiscovered plays.
Take Atlas Engineered Products (AEP.V / AEUPF) – another presenting company that hit 52-week highs this week. AEP manufacturers wood trusses and other engineered wood products for the construction industry.
They announced a record Q2 way back in July with big revenue growth (driven by both organic and M&A), record margins, and profitability for the first time since coming public 2 years ago.
But the market – until a few days ago – yawned. Now the chart is starting to look pretty good: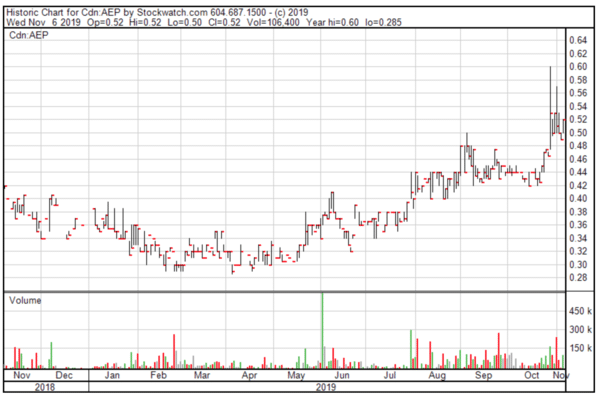 We think AEP is going to be a big winner.
MediaValet (MVP.V / VRXWF:PINK) is a new idea that presented at our conference for the first time. They sell cloud-based digital asset management solutions through a SaaS model.
They announced back in August a huge growth quarter where recurring revenues surged 65% and billings grew by 85%. But the market did nothing.
And now on the heels of another record earnings report announced just yesterday – with billings up 94% year-over-year – the stock is up over 120% since our conference: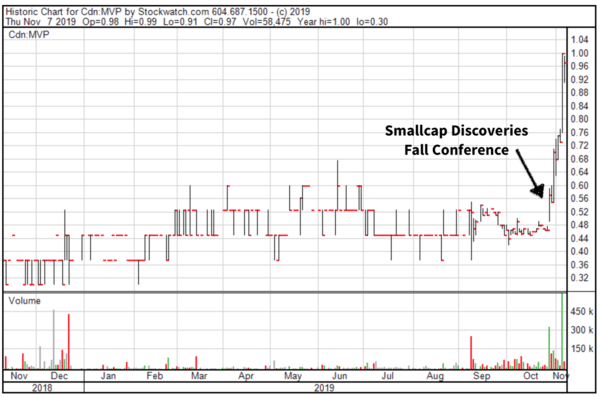 It's not just companies we follow that are sending bullish signals.
Intrinsyc Technologies (ITC.V / ISYRF:PINK) announced they will be acquired by Latronix (NASDAQ:LTRX), a US-based IoT company.
The deal comes at a 28% premium for shareholders.
Medicure (MPH.V / MCUJF:PINK), a cardiovascular pharmaceutical company, announced an issuer bid for over 25% of their shares outstanding at prices up to $6.50 – that was over double the current trading price! Shares rocketed up 44% in a single day on the news.
What does all this mean?
We see it like this: if the public markets won't give Canadian microcaps the valuations they deserve, other players will step in.
Value will be realized one way or another.
And as a microcap investor, this is GREAT news.
But we'll admit it's not easy. You need to have a strong stomach to profit in this market. You may have to look at some stocks down 70, 80, even 90% and buy when the fundamentals say you should.
This is still a market where emotional selling can keep prices dislocated from value. But we'd say use that to your advantage.
Bottom Line
Our approach has always been fundamental driven. Find great growth companies at cheap prices and the returns will take care of themselves. It doesn't always work – and we can look foolish for long periods of time.
But with the recent market action, we are optimistic life is coming back to the Canadian microcap market. And we continue to think there has been few better times to be focused on our corner of the market.
Because in the micro-cap space we don't hit singles.  We hit home runs.  Yes, we strike out a lot, and that's the game.  But when we connect – Kaboooom!!
To your wealth, Paul & Brandon
See SmallcapDiscoveries.com for more information about us, or click below to become a Paid subscriber, with full access to previous reports, and regular email updates about our picks.