Gold stocks. Again.
This week, I bought a small amount of Prime Mining Corp (PRYM-TSXv, PRMNF-OTC) on the back on a big promotional campaign put out by our sister newsletter, Investing Whisperer.
Eclipse Gold Mining (EGLD-TSXv) went public on Tuesday, holding at around 80 cents.
K92 mining (KNT-TSXv) is still in the portfolio. A free report from Investing Whisperer since the summer, I'm up 50%.
All of my gold research comes from Investing Whisperer by the way. If you want to subscribe to here, click here.
I'm not buying gold stocks because I'm an expert in that industry (far from it). I'm buying gold stocks because all the smart guys seem to be doing it.
Virtually any decent exploration team can raise money nowadays and all the old hands, not seen for many a year, are showing up at the industry trades shows again.
And it doesn't hurt that the price of gold is going up every month.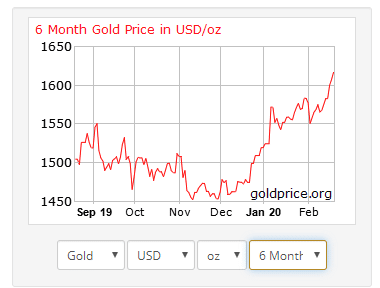 What Am I Not Buying?
Crypto-mining stocks.
That's not to say they could pop in the next few months. Hive Blockchain (HIVE-TSXv) is showing surprising strength. HUT 8 (HUT-TSX) is hanging in there nicely.
I just think the fundamentals have deteriorated significantly since last summer when bitcoin briefly touched $13,000 USD.
Since then, bitcoin has dropped to just below $10,000. It's up year-over-year but so is the network hashrate:

If you don't know what you are looking at, you shouldn't invest in any crypto-mining stocks. Ever.
In plain English, the hashrate is the amount of processing power on the bitcoin network that is competing for the new bitcoin that is mined on average every 10 minutes.
As processing power increases, the profitability of bitcoin mining drops. Since July, profitability has dropped by roughly 40% (and that's not including the drop in the price of bitcoin from June of 2019 to January 2020).
News gets worse.
At present 12.5 bitcoin are mined every ten minutes. Sometime in May, production will be cut in half. I wrote about the "halving event" here.
Yes, that means, the miners will be taking a 50% haircut come May in gross revenue.
Only miners with the most modern rigs will survive, as most likely it will become unprofitable to mine with the older rigs such as the Antminer S9, which is barely profitable today.
Oh sure, if bitcoin spikes to $50,000, that will save all miners and the stocks will pop hugely. Don't hold your breath.
But for myself, I think I will keep my assets in gold stocks and bitcoin itself and wait for May.
DJ
Reminder: This is not investment advice.