By the time news hits that the yearly corn crop is a bust or a bumper crop, that information is already reflected in corn futures contracts.
The big buyers and sellers of corn contracts already know what the crop is going to be like months in advance. Or they have some really solid guesses that are more often right than wrong.
In the corn market, there is no latency between pricing of the corn and corn futures. The players play the game very well. The market is mature.
But crypto is not a mature market. Many players are very new to the game. And it's volatile.
Latency is your best friend in crypto.
The most common latency I see in crypto is this ladder:
Market-moving coins and tokens: Bitcoin and Ethereum THEN
Public crypto companies on senior exchanges (NASDAQ) THEN
Public crypto companies on junior exchanges (Over-the-counter, Canadian Stock Exchange, Toronto Venture Exchange).
When the market is heading DOWN, there is not much latency, these assets all tank together.
But when the market is heading up, there is latency, especially with the junior stocks.
Let's look at the charts:
Here is the thirty-day price chart of bitcoin: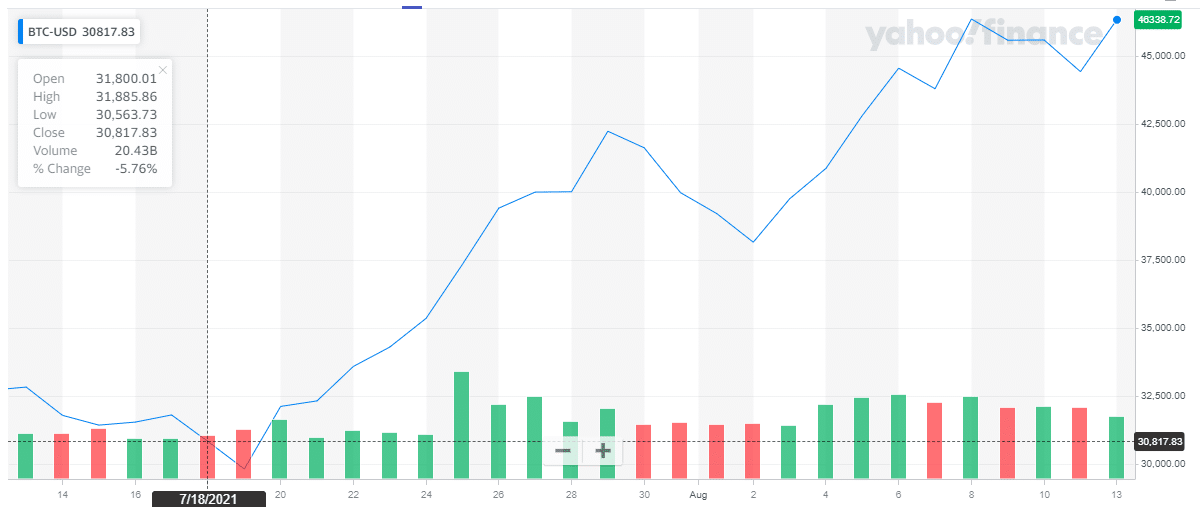 In the last month, it has gone from $33K to about $45K, an increase of 36%.
Now here is the price of Bitfarms Ltd. (BITF.V) in the same thirty days: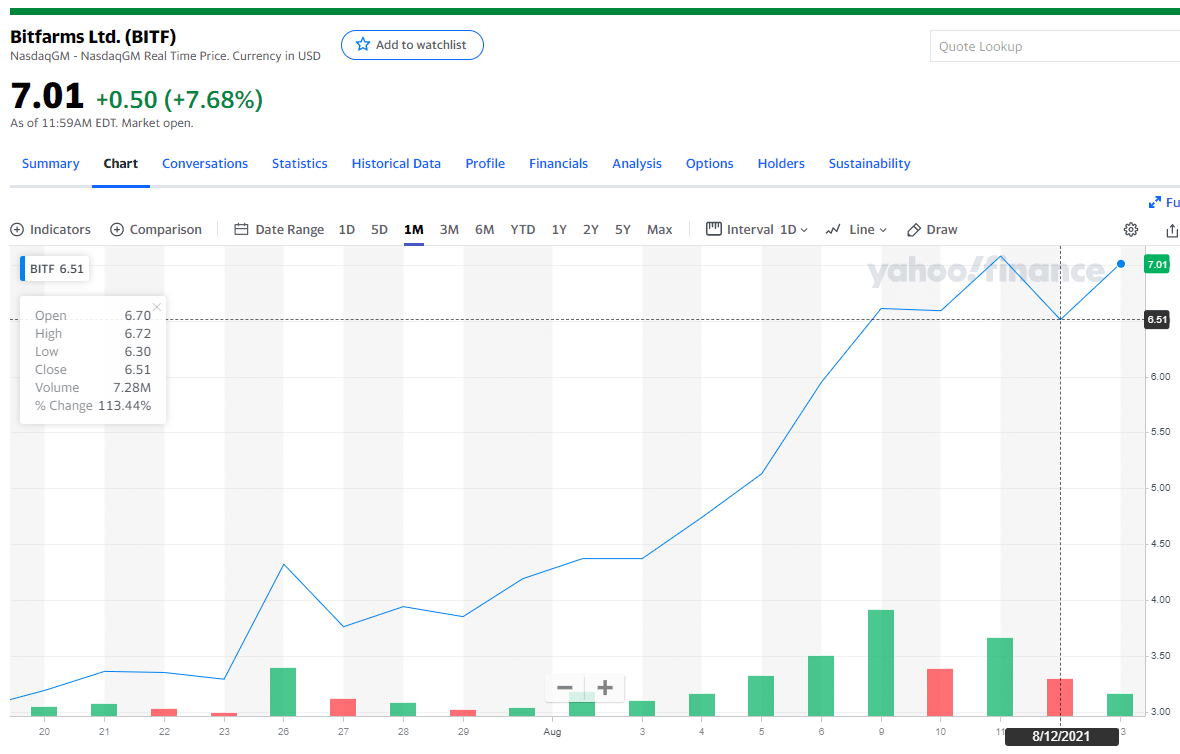 Bitfarms is up from $3.00 to $7.00 USD, or 133%.
Bitfarms is a bitcoin miner just recently listed on NASDAQ. It's hard to see from the charts, but while bitcoin hit rock bottom on July 19th, Bitfarms kept going down and hit bottom on the 20th.
Only one day of latency, but it's there. And Bitfarms is more volatile than Bitcoin.
Public crypto stocks in the senior markets have shown some latency in tracking the price of bitcoin and in their brief history, shown to be more volatile (or how I like to say, have more torque).
But what about crypto stocks on the junior exchanges?
Here is where it gets interesting. Here is the thirty-day chart of Link Global Technologies Inc. (LNK.CN) :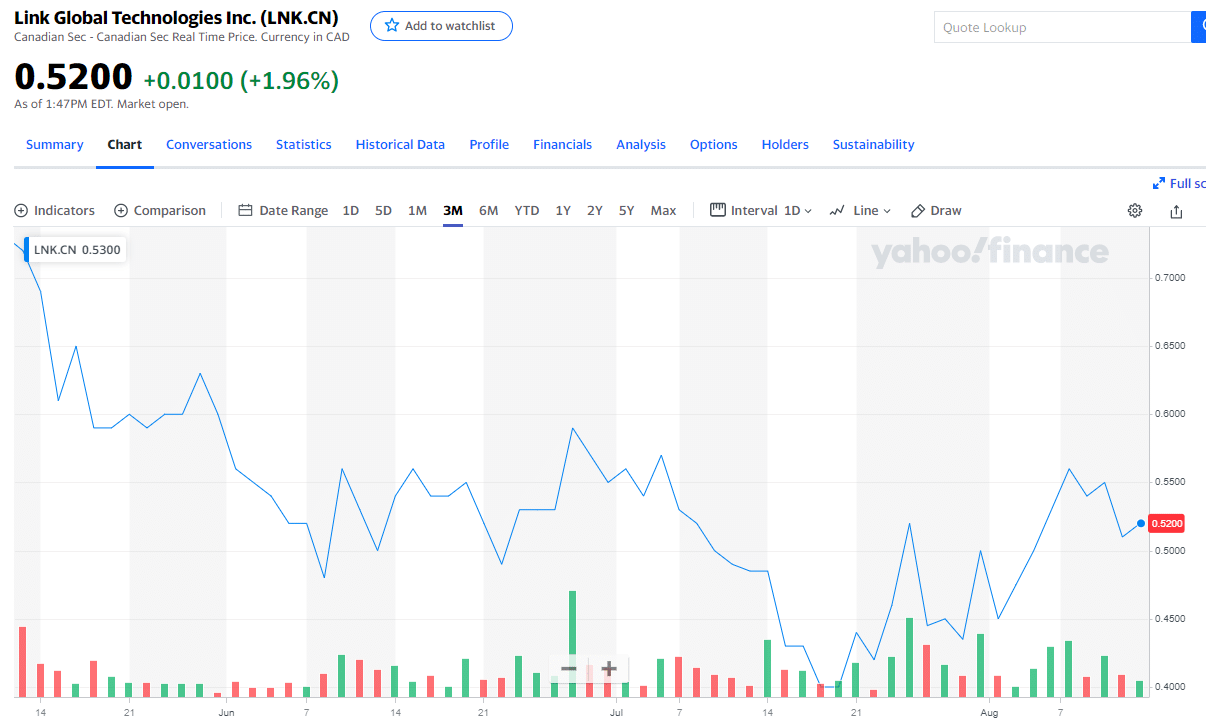 That's right. In the thirty days since bitcoin has gone up 36%, the price of Link has gone down.
But pretty much EVERY junior crypto-stock has tanked this summer.
If you examine the financials and press releases of Link Global, they look solid. It's pretty much a mini-me of Bitfarms.
Positive cash flow, lots of contracts in the hopper, seasoned management team, etc, etc.
But they are stuck on the junior exchanges, as opposed to Bitfarms which has a coveted NASDAQ listing.
They can file all the positive news they want on SEDAR, but nobody reads SEDAR filings on crypto- companies listed on junior exchanges (well, except for me, but there a not a lot of newsletter writers out there focussed on crypto).
So why do I own Link Global (and a fair amount too, in addition to Bitfarms)?
Because these junior stocks have unbelievable torque. From November 2020 to February 2021, many of these stocks turned into five or ten baggers.
Bitfarms was trading under 70 cents last November. In February, it hit $7.98 CAD. There were a dozen junior crypto-stocks that did the same, or close to it.
Junior crypto stocks will crash immediately with the price of bitcoin. But they don't go up if the price of bitcoin recovers gradually. There is a great deal of latency there.
But if the price of bitcoin continues to go up and makes a new high, the junior stocks move up FAST and move up a lot.
The average penny stock investor is impatient and can't be bothered to read financials.
I have found it profitable over the years to be the opposite. Read the financials and wait it out (or sell if the financials tell a different story from what the promoter is telling you).
Of course, that means at least ninety percent of the time your money is dead, with the stock treading water or heading down.
But a chance 500% or 1000% gain in four months? I will wait for that.
DJ
Editor's Note: Nothing written here is meant to be investing advice. I own bitcoin, Bitfarms and Link Global Technologies. Both Bitfarms and Link Global are in the New Currency Frontier's paid members portfolio.