After the disaster of May and June, when the price of Bitcoin dropped 50% (and some altcoins dropped 80%), everybody breathed a sign of relief when we rallied in the summer.
Bitcoin is only 13% off its all-time high.
Ethereum
is less than 5% off its ATH.
Too bad September is historically the worst month of the year for bitcoin.


Since 2013, the aggregate monthly return for bitcoin in September has been MINUS 41%.


There are only two other months in the year that show a negative return for bitcoin: January (minus 8%) and June (minus 36%).


The good news is that disasters never strike in September, as the worst month was in 2014, with a return of "only" minus 20%.


But nothing good ever happens either. The best September ever was in 2016, with a positive return of a measly 7%.


Good time to sell if you believe in historical patterns. But do not wait too long to get back in.


October and November, are the two best months to be invested in bitcoin, with aggregate monthly returns of 324% and 793%, respectively since 2013.


As a matter of fact, those two months have an aggregate return of 1117% since 2013. If you sum the rest of the months together, you get an aggregate return of…851%.


If you really have guts of steel, sell now and buy back in the last week of September.


Easy to say, tough to do. Mainstream media coverage of crypto is manic-depressive, with stories saying one month bitcoin is going to hit $1 million, and the next month it's going to zero.


Time and time again, I've sold out of positions with a big gain only to leave a ton of money on the table.


Last September was no exception. I had opened an Uniswap account and thus received a fair number of Uniswap tokens for FREE.


It quickly went from $3 to $7 and I sold all of it. Then it swooned down to $2.79, and I nearly broke my arm patting myself on the back.


But long-term, how much money did I leave on the table?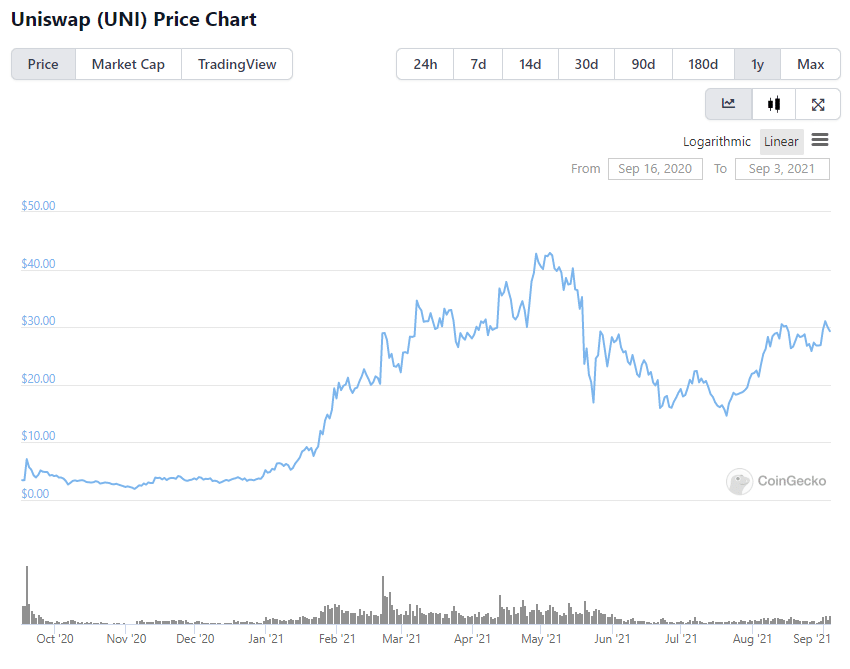 I bought my first bitcoin in 2013. I have been investing in crypto seriously since 2017. In that time, I have made at least a dozen trades where I made some money and left a LOT of money on the table.

Every time I read a negative story on crypto, I think about one of those trades.
DJ