1931, 1972,2001,2008, 2022..

I've lost count of how many charts I've looked at this year that compare the stock indices of 2022 with 1931 (or 1972, or 2008…)
I get it. We are in a bear market. And we are waiting for the crash. But how do we know when the train has really fallen off tracks and over the cliff?
It should be easy. Look at the stock market indices of today and compare to history, and that should tell you the bottom.
I did that in the first half of this year, in a series of articles called A Very Short History of Stock Market Crashes.
What did I find?
At the risk of over-simplification, the main takeaway is that:
The good stuff (i.e. "blue chips" stocks) dump 50%.
The risky stuff (like Hong Kong stocks in 1972) dump 80%.
So where are we right now in the cycle?
Year-to-date, the Dow is down only 10%. The Nasdaq is down only 28%.
Meanwhile, Bitcoin is down 70% from its all-time high and so is Ethereum. Note that Ethereum went below $1000 briefly in the summer to be 85% off its all-time high.
At first glance, we could say there's going to be one more leg down.
But if you take a second look, then the future gets a lot cloudier.
First of all, let's be clear: You are reading a newsletter put out by a crypto-trader, not by a respectable financial advisor or well-established investment firm.
I could not care less about the companies that make up the Dow Jones Industrial Index. I care more about the value of pictures of pet rocks that go for thousands of dollars on the Ethereum blockchain.
Having said that, let's have a look: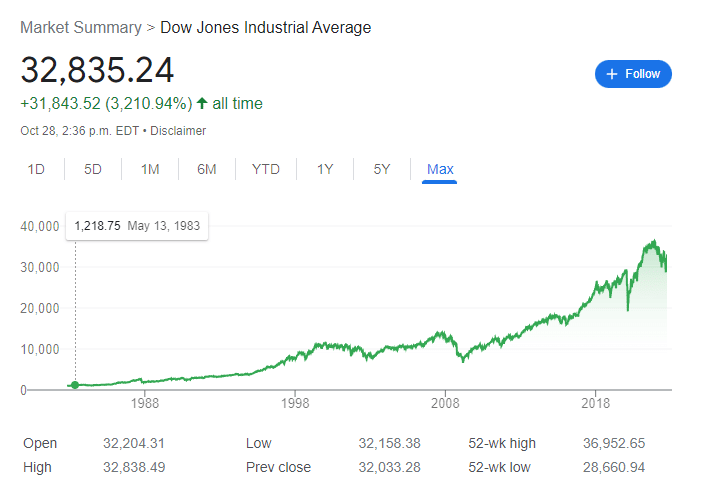 The periods 1999-2003 and 2007-2009 are what we want to examine. From peak to trough, it dropped 30% in the first crash and then 40% in the second.
Arguably, and with accounting for the 8% percent inflation this year, you could say we have another 10-20% drop over the next one to two years.

But another 40% drop? History says it's not going to happen.
But what about the Nasdaq? Now that's more interesting, especially since this year there has been a remarkable correlation between the NASDAQ index and the price of bitcoin (and also Ethereum).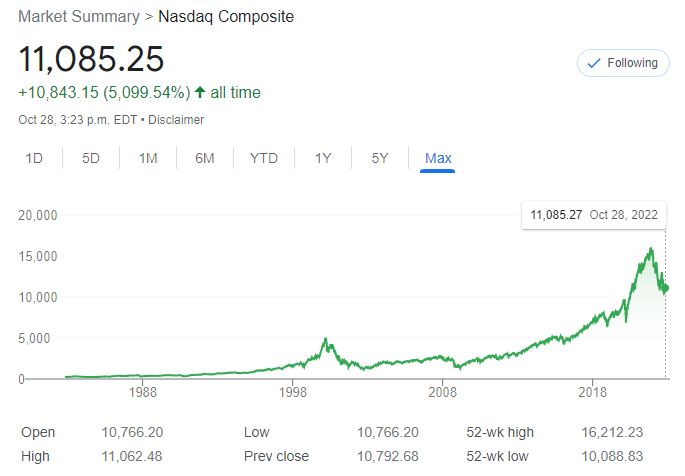 From 1999 to 2003, from peak to trough, it fell 73%. But from 2007 to 2009, it fell by 48%.
Looking at the chart, we can say it could drop to somewhere below 10000 with 8000 being the lowest point.
Great. So, I should be nervous, still.
But as you look closer, at individual stocks, the uncertainty returns:
Telsa is down 36 % Facebook is down 70% Netflix is down 56% from its ATH. Have these stocks hit rock bottom? If not, they must be close.
Apple is only down 15% from the beginning of the year with a $2.5 trillion market cap. Alphabet, parent of Google is down 35% with a market cap of $1.25 trillion.
For NASDAQ to tank to that magic 50% threshold, Apple must go down a lot more and Google needs to drop as well.
But Apple just announced revenue of $83 billion for the quarter. Alphabet announced revenue of $69 billion.
Apple price to earning ratio is about 30. Google is below 20.
I think for Nasdaq to dump the full fifty percent, Apple and Google would have to dump so that their price-to-earning ratio would drop below 15.
I guess it could happen, but good luck with that. Personally, I'm not buying puts on those stocks anytime soon.
I was an investor during that 1999-2002 time period, and I remember the NASDAQ being a lot more frothy than it is now. Does anybody remember JDS Uniphase? I think it has a P/E ratio near a hundred before it cratered. And it wasn't the only one by far.
Finally, let's look at the charts of bitcoin and Ethereum:

And Ethereum:

Both bitcoin and Ethereum are just above their ATH from the last boom in 2017.
Therefore, as a crypto-investor, we have to ask, what are the chances of either bitcoin or Ethereum falling below their 2017 highs?
Ethereum did ever-so-briefly in the summer but then recovered in a matter of weeks. Bitcoin has gotten very, very close.
There's a chance they could crater below their 2017 highs. But so what? I have been trading crypto off and on since 2014, trading it seriously since 2017.
If I had a Dogecoin every time somebody told me that bitcoin was going to zero, I would be typing this from my yacht in Dubai (alas, I'm at my home office in Vancouver).
The risk of a dump in crypto is always there. But is the risk greater than normal? It was back in January 2022. But not now.
Conclusion

Above all, remember we are looking at the worst-case scenario. That 2022 is going to be a year like 2001 or 2008.
And this year has got a chance to be like that. But if so, we are more than half way there, at least with the Nasdaq and certainly with crypto.
I have money in the crypto-market. Not all my money. But a big chunk. If Bitcoin tanks below $15K and Ethereum below $1000, I will put even more money in.
In my opinion, there is still a lot of risk in the market. But it's a lot lower than at the beginning of the year, or even three months ago.
That's why I'm buying stocks and crypto again.
DJ