The Chinese government's decision to ban initial coin offerings triggered an epic selling spree that dropped Bitcoin from a high of $5000 USD down to a low of $3950 in the space of three days. That's a drop of 21%.
In comparison, on October 19th, 1987, the Dow Jones Industrial Average fell 22%. But remember that Bitcoin trades 24/7, 365 days a year. Bitcoin reached it's high of $5000 on Friday afternoon and started dropping all through the weekend.
What is almost shocking is the difference in price in Bitcoin between Asian and North American markets.
During the weekend, the spread was often more than $200. For example, as late as Monday, September 5th, at 18:15 (UTC), the North American price of Bitcoin at Coindesk (which follows Coindesk exchange) was $4243. Meanwhile at the Taiwanese exchange Bitfinex, the price was $3950.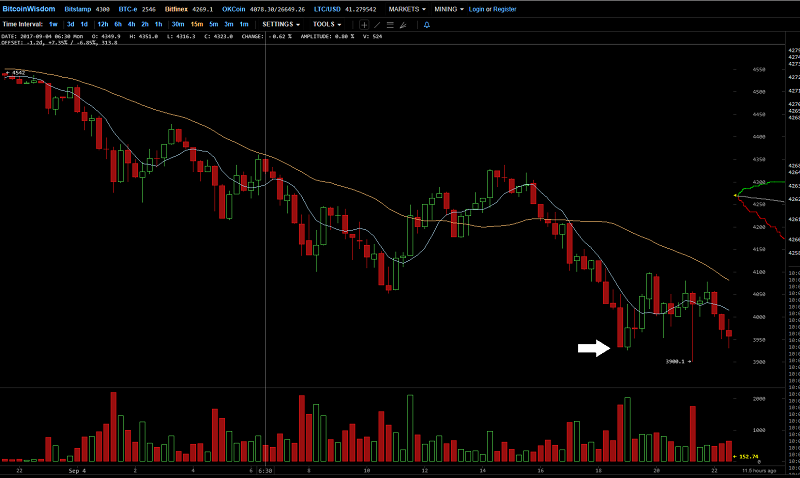 Bitfinex with a low of $3950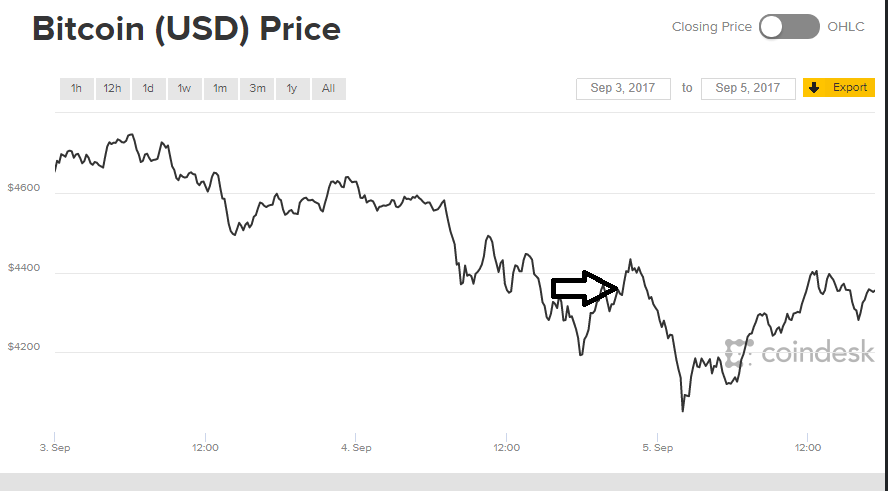 Coinbase at more that $4200
That's a spread of more than six percent!
Any derivative trader in any traditional currency market would kill for a spread of one-half percent, but all weekend long there were spreads of more than four percent. If you have been able to shuffle funds back and forth only three times over the weekend, you would have made 12% risk-free.
But of course, compared to traditional currency markets, the cryptocurrency is still taking baby-steps. While transferring Bitcoin through the worldwide blockchain can take just a few hours, withdrawing and depositing fiat currency (i.e. American dollars) to exchanges can take days if not weeks.
But rest assured, there were multiple investment bankers and hedge fund managers looking at the action over the weekend and wondering how they could get a piece of it.
The flow of Bitcoin from East to West could also be seen in the price of Bitcoin futures contracts dipping when during daylight (trading) hours in Asia, and then rising when North America woke up.

So how does Joe Trader make money from these trading patterns?
Watch out for announcements from regulators, especially off-hours.
One could be slightly suspicious of the timing of the negative announcement from the Chinese regulators, on Friday afternoon, just when Bitcoin hits its all time high. And then the price of Bitcoin at  Bitfinex is remorselessly driven down during Labour Day weekend.
Off-hours trading for North America Traders offers better opportunity.
This is bad news for us with those who have family. But those picked up the trend on the weekend that short-selling would start in Asia, as soon as North America went to bed, would have made a killing.
The Bitcoin network is by no means perfectly efficient, or even close to it.
A spread of 6% in a commodity aka Bitcoin that can be transferred around the world in a matter of hours or even minutes, should simply not exist. But it did.
In summary, it is worth remembering that Bitcoin is a currency that is owned all over the world, meaning that news from Asia on a Friday afternoon before a long weekend, could be critical in you making a LOT of money (or even losing it).
Ross