A few weeks ago, there was a spread of more than 6% between the price of Bitcoin in North America and in China, as the Chinese exchanges were dumping Bitcoin during the government crackdown.
In theory, if you bought Bitcoin on a Chinese exchange (or even on Bitfinex which is based in Taiwan), you could then transfer the Bitcoins to an American exchange like Coinbase, sell the Bitcoin in US dollars and then transfer the dollars to Bitfinex and repeat the process.
Except that it would have taken days to get your US dollar deposit approved by Bitfinex if at all, because of regulatory issues, as most US banks won't let you wire money to Bitfinex. 
Now, you could transfer the Bitcoin to an exchange like Poloniex, which allows for the trading of Tether, a digital coin that maintains a constant value of 1 to 1 against the US dollar. I tried to do this myself but was foiled because Bitfinex will not accept Tether from accounts that were not verified (mine wasn't even though I've had it for four years) and verification will take 3-4 weeks.
Did you follow all that? I sure SOME people were able to do arbitrage but not enough as the spread between Chinese and American Bitcoin lasted for days.
Institutional brokerage houses could only look on and drool, for in the FOREX world, a spread of 6% (or even 3%) on one currency in different marketplaces just simply never happens.
The problem with Bitcoin and all crypto is the lack of liquidity. And one company is offering a solution.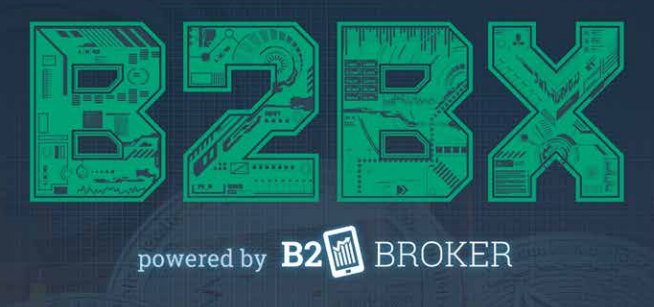 The Huge Market of Brokerage Houses
I am participating in the pre-ICO of B2BX, which is billing itself as the "Biggest Cryptcurrency Exchange in the World."
As far as I can determine, there is not much difference between a pre-ICO and the official ICO but for two factor:
You get a 35% bonus for sign up in the pre-ICO phase.
They are only selling one million euros worth of tokens in the pre-ICO phase. At present, they have sold 800,000 euros worth of tokens. You can sign up for the pre-ICO Note: No residents from US or Singapore allowed to participate.
The ICO will run from October 2nd to November 17th and 40 million coins are for sale.
I paid for my B2BX tokens with Ethereum using Myetherwallet.
Now I before I begin telling you about B2BX, I want to warn that what follows is extremely technical and geeky but I promise if you plow your way through it, you will find it very interesting. I will do my best to try and write in plain English and explain the technical terms as they pop up.
Also I wrote up my criteria for selecting ICOs in a previous article here (need to insert link) , if you are wondering how I decide if it's a good ICO (or not)
B2BX will be a cryptocurrency exchange that serves not retail customers (that's you and me) but brokers and institutions. Specifically, they are focussing on the FOREX (foreign exchange) brokers that work on the Metatrader platform.
If you have never heard of the Metatrader Forex trading platform it is the most popular foreign exchange/stock trading software in the world.
More than 4000 Forex brokers (50+ percent of the Forex market) use it.
By end of 2018 B2BX is forecasting to connect to 200+ clients on Metatrader, by 2019, 500+ customers, by 2020, 700+.  In 2017, they have connected 30 clients so far.
This is one of the things I like about this ICO, that there is an actual product here i.e. what they call the crypto-liquidity aggregator (terrible name I know).
The size of the Forex brokerage market is staggering.  There are 8000 Forex brokers in the world, and the volume of just one of those brokers in the top 10 is $15 billion a day. That is more than the turnover of the top ten crypto-exchanges combined.
If we talk about the brokerage services market in general, there are more than 12,000 brokerage companies in the industry. These are the guys that B2BX wants to "connect" to the crypto-world.
Now Why Aren't Brokerage Houses Trading in Cryptocurrency Already?
In one word, regulation.
Bank and brokerage houses don't want to work with crypto until it is legalized. Large institutions want to see a clear regulatory framework before they allow private traders to work through the usual mechanisms of depositing and withdrawing money.
However, there is one country has ruled Bitcoin to be a currency: Japan. And that is where B2BX will apply for a JFSA (Japan Financial Services Agency) license. They also plan to accumulate other financial licenses such as CySec (license from Cyprus Securities and Exchange Commission), ASIC (Australian Securities and Investments) and FCA (Financial Conduct Authority, based out of United Kingdom).
In Japan, having a JFSA license allows you to do physical delivery exchange, allowing you to exchange fiat money (US dollars, Japanese Yen, Euros) for either Bitcoin or Ethereum or vice-versa.
The physical delivery exchange mechanism means any institutions that have strict Know-your-customer (KYC) and anti-money laundering (AML) standards can hook up their IT systems to B2BX and start accepting trades in Bitcoin and Ethereum.
Also, as soon as the regulatory framework expands to allow other cryptocurrencies, then B2BX will the first to offer this to their clients.
The B2BX Platform Will Solve the Lack of Liquidity Problem
If you want to buy $15 million of Bitcoin forget it. Try that on any crypto-exchange in the world and it would melt. For one thing, many crypto-exchanges do not accept US dollar deposits. Secondly, the bank that is acting as a source of deposit for fiat money would ask for justifying documents before accepting such a large deposit.
And yet, 15$ million is not a particular huge amount of money for a financial institutional or for even the larger FOREX brokers.
Put it another way, if you want to buy $15 million of Bitcoin, there is no way the crypto-exchange can hedge the purchase or find a counter-party to offset some of the risk.
That's where the B2BX aggregator comes in: it will connect a large amount of institutional investors with the top crypto-exchange. So if an order comes in for $30 million, the B2BX aggregator will be able to locate fills from other institutional sellers, and if there is not enough sellers, to be able to automatically distribute the buy throughout the exchanges at the retail level.
Of course, that sounds nice, but how will the B2BX aggregator do this? By being able to "talk" the various IT systems of the brokers and the various crypto-exchanges.
Okay, here is where it gets technical.
Most (if not all) Forex brokers use a protocol called the FIX API standard, that stands for Financial Information Exchange Application Programming Interface. It's a protocol or language that IT systems belonging to different companies use to talk to each other. When one broker wants to place an order with another broker/financial institution, the IT systems will communicate using FIX.
The B2BX will aggregate and convert different protocols from various exchanges and will pass on the orders to the brokers using the FIX protocol.
B2BX can already connect to the five largest crypto-exchanges. Five exchanges and 12 professional market participants have already connected to B2BX. So it's a working product.
So B2BX is claiming to be the first regulated business-to-business cryptocurrency exchange aggregator, connecting Forex brokers and crypto-exchanges all over the world. Their white paper is well-written and goes into far more detail than I have done here.
Reminder: The whitepaper of any ICO is the crucial document. It's like a prospectus. It explains what the team is going to be with YOUR money and it should be written in plain English. If you don't understand what is written in the whitepage, you are buying a lottery ticket at best and flushing your money down the toilet at worst.
Another aspect of this deal that I like is that it's not a blue-sky project where a group of developers decided to get together and build "something" that can't be made into a product until three years have passed. These guys have already put together a suite of products on their B2 Broker website and have been in business since 2014.
So they have marketing, sales and seasoned project management people in place and that makes me very happy. There is no substitute for good (great) software developers but software developers alone won't make you money.
How Does the Initial Coin Offering Look to Investors
Well first things first, the B2BX token will freely trade on the crypto-exchange service turnkey service that they have already implemented for five clients. Within two weeks it will be traded on at least two major exchanges that are in the top fifteen according to Coinmarketcap.
I love this. I love ICOs where there is a promise to list the token/coin on a crypto-exchange. And I don't…love ICOs where you must wait months to determine the true market of what you bought.
As they say in their white paper:
The B2BX token will be added to the largest aggregator of the cryptocurrency industry. Liquidity on it will be broadcast to all institutional customers of the aggregator, and those, in turn, will broadcast the opportunity to trade B2BX tokens to hundreds of thousands of retail customers.
There will be 50 million tokens issued and 40 million sold, with the tokens issued to management (4 millon) locked up for six months. Some tokens have been set aside as a bounty program.
The management team hopes to raise 25 million euros ($30 million US) during the ICO. If they raise less than 5 million euros, they will return funds to investors.
If they don't sell out, at the end of the ICO, all unsold tokens will be destroyed within 48 hours.
Proceeds from ICO is to fund the purchase of financial licenses in Japan, Cyprus and Australia for starters. The cost includes AML auditors, setting up physical offices in each country and putting up reserve bonds ($100,000 in Japan, for example).
The white paper breaks it down: 11 staff in Japan, including one lawyer and two directors. They will need ten employees in Cyprus, then ten employees in London and later, more than 30 employees in Hong Kong, China, and the UAE.
They will also need to staff up the development team.
The Team Behind B2BX?
The founder and CEO of B2Broker is Artur Azizov, a lawyer with MBA degree from the Financial University under the Government of the Russian Federation was also know as the Moscow Finance Institute until 1990. It is considered one of the top five universities in Russia according to Forbes and RBC. His linkedin profile is here.
The COO, Evgeniya Mykulyak has a linkedin profile of more than 6400 followers.. Olga Tkachenko, CFO,  profile is here and finally with regard to Vlad Posivenko, CTO, his profile is here. All members of the team have been with B2 Broker since 2014 and all the creds look solid.
The Business Model Including Profit and Loss Statements
The financial projections of the business can be found here.
They are expecting sales to begin with 576,000 Euros in fourth quarter 2017 then 2.1 million euros in fourth quarter 2018 with sales of 22 million euros in fourth quarter 2020.
As always with these projects, they are forecasting to burn money for a couple of years finally turning profitable in second quarter 2019. By 2020 they are forecasting a quarterly profit of more than 13 million euros.
As always future projections of sales, revenue, and profit must be taken with several grains of salt, but to me it looks good for 2 reasons: The forecasting is very granular i.e. very detailed so SOMEBODY really put a lot of effort into it and the second reason is HEY THEY HAVE FINANCIAL PROJECTIONS which is more than can be said for 90% of the whitepapers on ICOs that I have read so far.
Conclusion
I love this deal and have purchased tokens through the pre-ICO. I will probably buy more. But I think this deal will not get much love from the marketplace because frankly, this is the most unsexy ICO I have seen. I mean, it's an ICO that only financial geeks like me can love.
It's not hard to believe that a lot of people will pass on this ICO because they don't understand it. As for myself, I had read the white paper over three days to fully understand (most) of it.
Frankly I don't think many of my readers will get this far into this article as I admit there is a lot of nuts-and-bolts to get through.
But I don't care how unsexy this deal is, I STILL LOVE IT. The product, the management team and the financials all scream professionalism and loving attention to detail.
Post-ICO, it's hard to see this token tanking because the buyers in the ICO will be Forex brokers and hard-core techies. If the team hits their milestones on a regular basis then I don't know… post-ICO I see coins going up in value for no reason at all. If it doesn't double in a matter of months then there is no justice in the crypto-world.
The biggest problem in the cryptocurrency universe is liquidity and it's driving everybody crazy. The B2BX aggregator is a big step towards addressing that problem and I can see a lot of players in the industry getting behind these guys once they realize what they are trying to do.
Ross
Dear reader please remember I am not your financial advisor and not licensed to give out financial advice. Please see my disclaimer for more information. I am currently not participating in the bounty program of B2BX but will update the website with news if I choose to do so.
Definition of a ICO bounty: Commission paid out in tokens if you sign up for the ICO under my affiliate link. I have not posted any affiliate links so I am receiving no commission if you participate in the ICO.
Residents of the US and Singapore are not allowed to participate in the B2BX ICO.