Dear Reader: I have been working with Smallcap Discoveries since 2014. Since that, Paul Andreola and Brandon Mackie have picked multiple five- and ten baggers. Their track record is second to none over the last five years. Their retention rate for paid subscribers is the highest in the industry (I know).
They specialize in small cap stocks and rarely write "free articles." But when they do, it's golden. Here is one.
The link below isn't a pitch for their paid services. The article is yours to read.
Ross
Hello Investor,
Can you guess the best performing Canadian stock over the last 10 years?

. . .

We'll give you a hint. It wasn't in a sexy industry like biotech or software.
It was in a very boring industry… auto body shops.
It's The Boyd Group (BYD-UN:TSX). Check out the chart: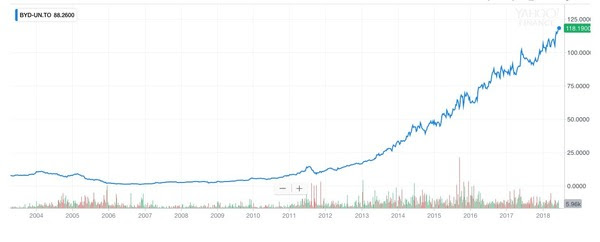 That's 4350% return since July 2008.
The crazy thing is… that growth didn't come from a big tailwind or breakthrough technology.
It came from acquisitions. Yep, it was a simple roll-up strategy.
Roll-ups have produced some of the most spectacular investment returns over the last century.
They have also produced some of the most catastrophic losses.
Hedge fund manager Bill Ackman lost $4.2 billion in a roll-up (Valeant Pharmaceuticals, VRX).
But why do some roll-ups generate life changing returns while others produce massive losses?
We've learned over the years it comes down to 7 key factors. Read on to uncover the 7 secrets to roll-up investing success. Ignore these at your own risk.