For the first time this year, the Bitcoin hashrate has stayed flat for one month: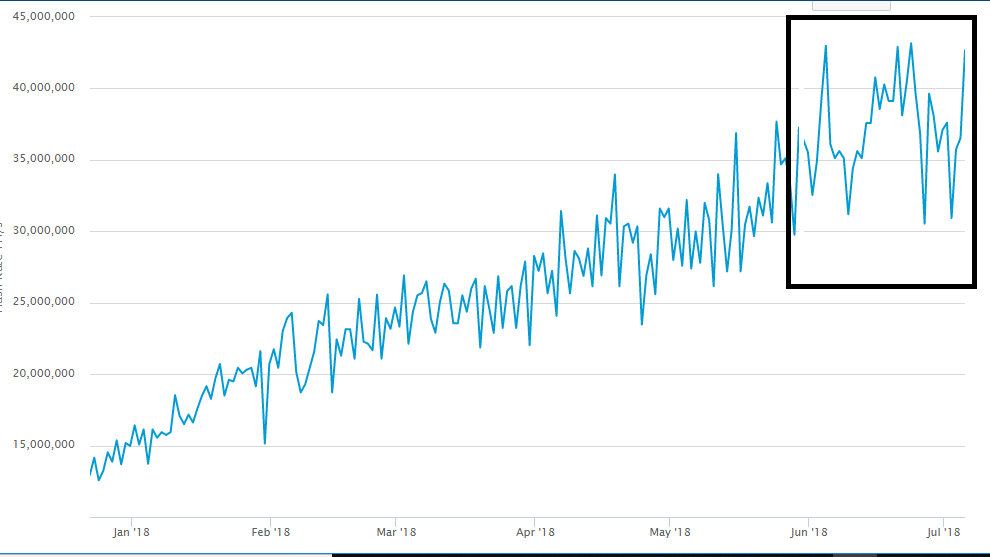 https://www.blockchain.com/charts/hash-rate
In case you are having problems reading the fine print, this chart shows the bitcoin hashrate at the start of 2018 was just under 15 million terahash, and through the month of June and July, is topping out at just over 43 million terahash.
Since bitcoin hashrate is a measure of the sum computing power of the bitcoin network, it also tells us approximately how many newer (and more powerful) mining rigs are being added.
For the first half of 2018, the hashrate went up 300% as bitcoin miners, flush with money raised from private and public investors, placed large orders for mining rigs and made plans to build out hundreds of megawatts of mining capacity.
Then bitcoin crashed, along with the public shares of the bitcoin miners, as well as their capacity to hold more rounds of financing.
The last round of financing for a miner was the HIVE Blockchain $9.9 million CAD financing in late May, for their purchase of data centres in Oslo, Norway. HIVE has been mining ethereum for the past years but has signaled their intent to start mining bitcoin.
At present, there is no faster way to empty a room full of accredited investors then to tell them you are raising funds for bitcoin mining.
But Does That Mean Bitcoin Miners are Losing Money?
Many if not most public bitcoin miners are reporting losses but that's does not mean mining bitcoin is unprofitable. Look at the bitcoin mining calculator below: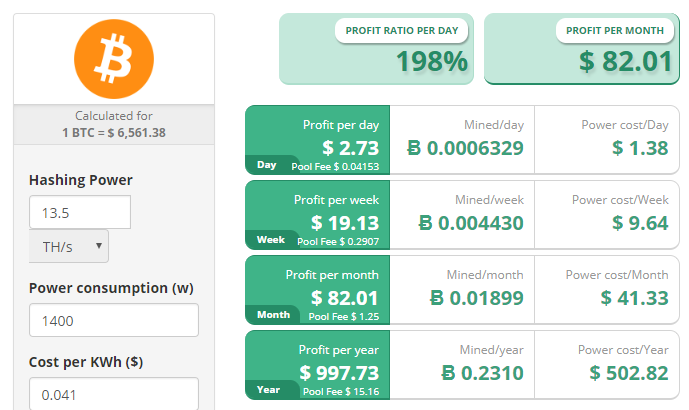 That 4.1 cents per kilowatt is a number taken from one of the most efficient bitcoin mining operations in North America, Fortress Blockchain, which is going public sometime in July.
The 4.1 cents includes the electrical costs, 24/7 staff at the mine, the facility lease, and insurance expenses.
But note that not all bitcoin mining companies have the same cost structure. The very best can do 4 cents all in. Many if not most have operating costs from 6 to 8 cents.
A few, with bloated management teams and expensive maintenance contracts, have costs above 10 cents a kilowatt, which is barely profitable at current bitcoin prices.
But What About the Cost of the Bitcoin Mining Rigs?
That is a story in itself. For much of 2018, the Antminer S9 was the workhorse of the bitcoin mining industry, with a mining capacity of 13.5 Terahash and a power consumption of 1400 watts.
It is estimated that Bitmain made $3 billion USD in sales in 2017 and the latest round of financing puts the value of the company at $12 billion USD.
But that kind of revenue attracts competition. Now other Chinese companies using chips from Samsung are trying to get into the game. And Bitmain is trying to hold on to market with deep price cuts.
At the beginning of 2018, the wholesale price of an Antminer S9 was $1800 USD with an Ebay price of $3000. In June the wholesale price dropped to $900. Now it's dropped to $750.
At current bitcoin price and hashrate, you can pay back the S9 in a year or less, but who says you have to buy the mining rigs in the first place?
DMG Blockchain is on track to have its 85-megawatt facility "energized" by the end of August, but that doesn't mean the company has to buy thousands and thousands of mining rigs to start making revenue.
"We have customers," says Steven Eliscu, vice-president of DMG Blockchain, "that have purchased the miners themselves. You've heard about companies relocating from China. The bad news is that didn't happen right away; the good news is it is happening. It's actually happening more in conjunction with the energizing of our substation. It's kind of like everything else. A bunch of technocrats run the country. The exit of mining [from China] is being done in an orderly way, but there's just a significant amount of demand there."
Conclusion
Three variables affect the revenue of bitcoin miners. One, obviously is the price of bitcoin.
The second variable is the bitcoin hashrate which is now flat.
The third variable is the cost of mining rigs, which is going down.
Does that mean you should run out and buy public bitcoin mining companies?
No, not yet, and definitely not in a random fashion.  The miners who bought their rigs a year ago had a few great months to pay them off. The miners with cash in hand should be able to negotiate a great with Bitmain or other mining rig producers.
But some companies bought a great number of Antminer S9s at full wholesale price but were not able to start mining until bitcoin fell below $10K. Those companies are to be avoided.
But if bitcoin recovers to $10K USD in the fall, then the miners making a profit at current prices now should become more appealing to investors.
Ross
Note: I own shares in both DMG Blockchain (DMGI-TSXv, DMGGF-OTC) and Fortress Blockchain