Bitmain, the dominant supplier of mining rigs in the world, is planning to go public in late 2018 or early 2019 on the Hong Kong stock exchange.
At present it is seeking a $1 US billion pre-IPO financing.
This is not wishful thinking by Bitmain's management team. They just completed a Series B funding of US$300-400 million headed by Sequoia Capital, with other investors including US-based hedge fund manager Coatue, Singapore's EDBI and China's Sinovation Ventures.
Fifteen billion US dollars is what industry analysts are predicting will be the market cap of Bitmain after it goes public.
Even in the crazy crypto-universe, $15 billion is nothing to sneeze at. But Bitmain really worth such a lofty valuation?
At first glance, Bitmain is a money machine (not a surprise since its main business is to literally mine bitcoin).
Although a private company, Bitmain said it booked $2.5 billion in revenue in 2017. Bitmain also claims that first quarter revenues were $1.87 billion.
Extrapolate that number, and you get $7.5 billion in revenue for 2018. At first glance, that looks very nice but if we dig a little deeper, you see there is no chance they will hit that number for 2018.
Bitmain made most (if not all) if it's revenue in first quarter 2018 in one of two ways: by either mining Bitcoin or by selling its flagship mining rig, the Antminer S9.
After reaching a high of nearly $20K USD in late 2017, bitcoin was still worth $13,400 on January 1st. But by March 1st, it bitcoin was worth $10.9K and this month it's around $8K.
Bitmain outright owns two of the largest bitcoin mining pools in the world, Antpool and BTC.com: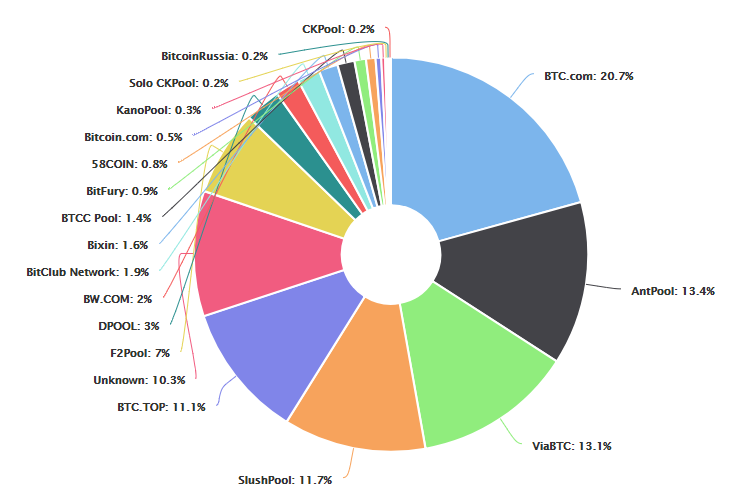 The third-largest mining pool is ViaBTC.com, is not directly owned by Bitmain but Bitmain has a significant investment in the supposedly independent company.
That's one significant source of revenue for Bitmain: 34% to 47% of yearly bitcoin mining revenue, depending on whether you include ViaBTC.com or not.
But the most significant source of revenue for Bitmain in 2017 and 2018 was the sale of their flagship product, the Antminer S9 bitcoin mining rig.
In late 2017, the retail price of an Antminer S9 was $1800 USD. At present, you can get one for $750, that's a price decrease of almost 60%.
But it gets worse. In early 2018, Bitmain had a huge backlog of Antminer S9s, meaning customers had to order and pay up front for S9s but wait months for delivery. So many customers paid the full $1800 but only received the Antminers after Bitmain had cut prices.
To say that those customers who paid the full $1800 up front are upset is an understatement. Nobody would go on record (remember Bitmain still controls more than 70% of the market) but off the record, many of Bitmain's customers are furious.
And many of those customers still have to report the 50% plus write down on their balance sheet. And when they do, how will that affect their ability to raise funds for expansion?
Fallout from the great bitcoin mining rig deflation of 2018 is still yet to be fully understood by the financial markets.
Why did Bitmain cut prices? Because the price of bitcoin went down and the hashrate rate/mining difficulty went up.
There was also increased competition from other chip manufacturers like Samsung who are now very interested in the bitcoin mining rig business.
With regard to the bitcoin mining business, it's quite easy to determine the maximum revenue that Bitmain can make in a calendar year.
Until 2020, the number of bitcoin mined each day is 1800. Assuming each bitcoin is worth $8000, that means the total value of the bitcoin mining industry is: 1800 x 8000 x 365 = $5.256 billion USD.
That assumes that Bitmain captures 100% of the bitcoin mining rig market and manages to capture all the value of each and every rig that it sells to an independent miner.
Even then, total maximum revenue is only one-third of its initial public offering valuation. So what gives?
Let's Assume the Sequoia Capital Analysts Know What They are Doing
Remember, Sequoia Capital just wrote a cheque for $300-$400 million to Bitmain. And who is Sequoia Capital?
They are just the largest investment fund in Silicon Valley, having just completed a round of fund-raising to the tune of… $8 billion USD.
It's a safe assumption that they are not a bunch of suckers.
As a matter of fact, it's a very safe assumption that they had an army of analysts crunching the numbers on this deal, spending far more time turning over every rock and pebble than yours truly spent writing this story.
So let's take a few guesses.
One guess is that the Sequoia Capital brain trust believes bitcoin will be worth far more than $8000 in a few years.
If bitcoin hits $25k then maximum potential annual revenue from bitcoin is now 1,800 x 25,000 x 365 = $16.425 billion USD.
Nice.
Another point to ponder is the gross margin of the bitcoin mining business and the gross margin of the mining rigs.
The cost of manufacture of a S9 is widely rumoured to be no more than $450. At $1800, Bernstein's U.S. semiconductor team believed the gross margin on the S9 was more than 75%.
Even selling at $750, a S9 has gross margin of more than 40%.
If Bitmain doesn't sell a S9 but instead uses the mining rig in its mining pool (Bitmain mines more than 40% of the bitcoin in the world), and they pay no more than 5 cents a kilowatt for electricity, they still can earn back the cost of the mining rig in less than six months.
But there's revenue and there is EBITDA. Waving a finger in the air tells us EBITDA for Bitmain in 2018 can  be more than $1 billion.
A multiple of 15 EBITDA/market cap is not unreasonable for a cryptocurrency company, just optimistic.
Finally, Bitmain is dropping hints that they can do more than just mine bitcoins:
"But with the growing instability of the Bitcoin trading market, Bitmain has been active developing AI chips over the past year in its business transformation drive. After releasing its first AI-based ASIC codenamed Sophon in November 2017, Bitmain rolled out in March 2018 its second-generation AI chip BM1682 with computing performance reaching 3TFlops, fabricated using 28nm process of Taiwan Semiconductor Manufacturing Company (TSMC)." – Digitimes
That sounds all very exciting but what is the size of the market for AI chips?
Well according to this report, the total market for AI chips is supposed to reach more than $10 billion US by 2023.
Again, that's well, nice. But it's foolish to expect that Bitmain will achieve the same sort of market dominance in AI chips that it currently has in bitcoin.
So, is this $15 billion valuation unreasonable or not?
Conclusion
I just can't figure out how Sequoia Capital will make any money on this deal if bitcoin stays under $10K.
With Samsung entering the bitcoin mining chip market, and with a significant percentage of Bitmain customers just dying to see more competition in the  bitcoin mining rig business, the days of Bitmain selling rigs at obscene profit margins are coming to the end.
Sales of the AI chips will not make up the difference.
The current valuation of Bitmain looks very optimistic.
Unless of course, bitcoin rallies well north of $10K, and I mean WELL ABOVE TEN THOUSAND DOLLARS.
If bitcoin goes above $16K, then Bitmain's share of bitcoin mining each year would be more than $3 billion USD. That's not including whatever S9 mining rigs they can sell on the open market.
That would justify $15 billion USD
But of course, if bitcoin hits $16K, then everybody is going home happy.
Ross