Behold the falling knife: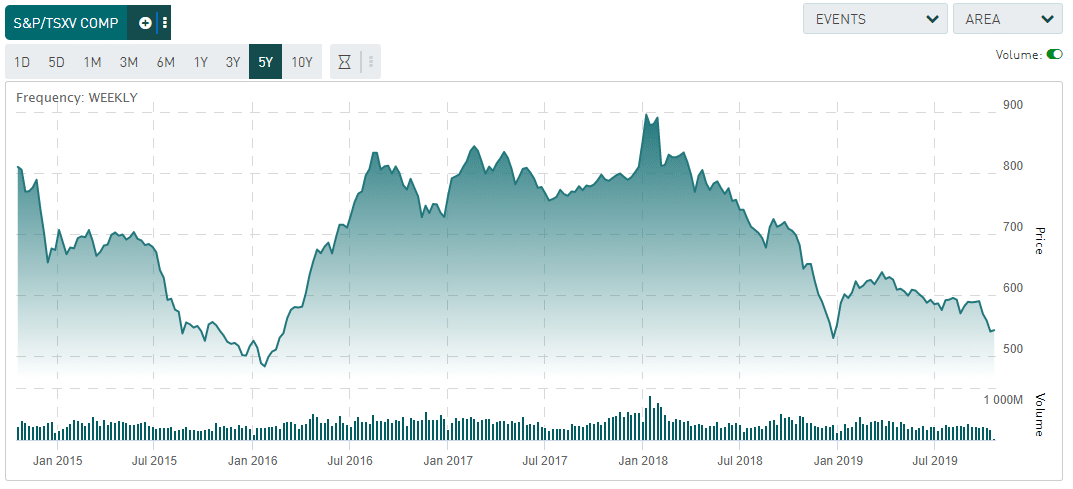 This a five-year chart of the Toronto Stock Venture Exchange. The index hit 542 on Friday.
It hasn't been that low since early January 2019, when it was 530. The only time the TSX has been below 500 was January 2016.
Note both times the index recovered very quickly, rising 20% in less than thirty days.
That is the nature of speculative investments, they tend to bounce very quickly off the bottom.

I like using the TSX index as a proxy for the risk appetite of North America investors. What it is telling me right now is there is no appetite for risk.
If you are trader that's bad news. This is the type of market that punishes traders, who sell when the market goes down and hope to buy back when the market heads up.
But as the chart above indicates, that is easier said than done.
On the other hand, if you are an investor interesting in holding a stock longer than it takes to make a sandwich, you might just consider sticking a toe in turbulent waters.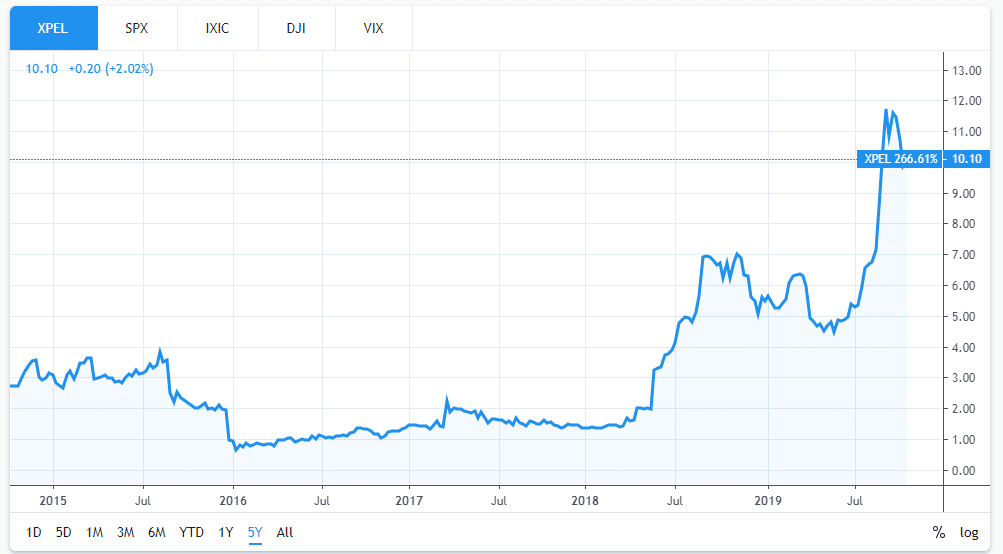 This is a five-year chart of XPEL Technologies, a stock listed on the TSX until this year when it won a NASDAQ listing.
Its low point was $1.00 and its high point was $12.00 (CAD).
But if you were trading this stock, instead of investing for the long-term, it would have been hard to make money.
In the last six months of 2015, it crashed from $4.00 to $1.00. Even as late as 2018, it went from a high of $7.00 to below $5.00 in 2019.
It's not enough to be investing in these kinds of stocks, you have to invest and hold with conviction.
Paul Andreola and Brandon Mackie are two such types of investors. They are co-publishers of our sister publications, Smallcap Discoveries.
They held their annual Smallcap Conference yesterday in Vancouver, B.C.
While traders such as myself are hanging their heads, Paul and Brandon couldn't help but be enthusiastic about the value propositions of the stocks out there today.
They said it was the year 2012 that small-cap stocks were this unvalued.
Since then, Paul especially, they invested in multiple stocks that became ten-baggers (go check their website for a list, they have lots of free content there).
One saying that was making the rounds yesterday was: "Don't buy when there is blood in the street. Buy when there is nobody in the streets."
As I talked about in this story, that's what happened. If you still have small-cap stocks in your portfolio, don't bother selling now, there's nobody to sell it to.
(One CEO at the conference yesterday said that with a half-dozen phone calls said he could contact the owners of 75% of his company's stock.)
Of course, in the era of negative interest rates, nobody knows anything.
With Trump playing an enormous game of chicken with China (and the US House of Representatives), expect institutional money to keep pouring into US Treasuries and not much else.
Now it's a question of how long the big money stays on the sidelines.
DJ