It's no surprise Ethereum topped $2000 USD this weekend.
Historically, the best months of the year for crypto are April and May.

Since 2011,  the price of bitcoin declined only TWICE in the month of April, and that was only drops of 5% and 6% respectively.
But there have been FIVE months where the price of bitcoin has increased by 29% or more.
I like those odds very much.
May is another month where odds look good. Again, only twice returns have been negative, and FOUR months where the returns were 38% or greater.

Let us hope that history repeats itself.
It's not just me thinking happy days are here for awhile.
Glassnode thinks the immediate future looks rosy as well.
It is a crypto-analytic service where you can sign up for free and get some nice charts on crypto and some good technical analysis, and they offer a paid service as well.
Here is one chart they offer: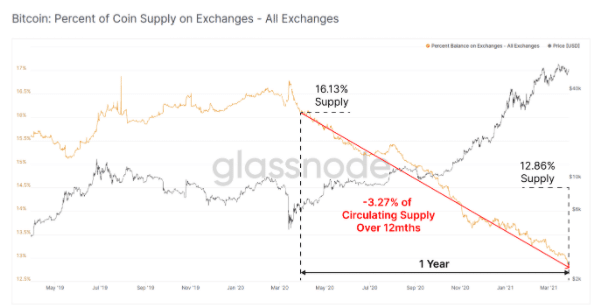 That graph indicates the amount of bitcoin being held on crypto-exchanges. It's going down, presumably to personal wallets for long-term storage.
That's one data point, and they offer more, shown in esoterical charts such as the percentage of bitcoin that hasn't moved wallets in such-and-such time.
The point is, every data point you can think of points to a price runup in the next sixty days.
And I agree with the rosy forecast.
This is not the top. For one thing, mainstream investors are only really starting to think it might be a good idea to buy some bitcoin.
And the traditional penny stock investor is grudgingly beginning to buy crypto, if only because the usual gold and silver stocks continue to tank despite the many trillions of dollars that have been printed in the last year.
There no mania happening. At least, not yet.
In conclusion, it's time to start loading up on public companies in the crypto sectors. The Neptune Digital Assets (NDA:TSXV NPPTF-PINK) I purchased two weeks is holding up nicely.
I have bought three other stocks which will be made available to members of my paid service when I finally get around to launching it (it's taking forever, I know).
One stock I will share with my free readership is Cloud Nine Web3 Technologies Inc (CNI-CSE, PINK-CLGUF).
It's currently trading under $2.00 CAD with a market cap of 35$ million.
I see utterly useless crypto-tokens with a market cap of $100 million-plus all the time, so for me, it's a no-brainer to own this stock.
Our sister publication Investing Whisperer has a full-write on the company here.
Note that Investing Whisperer was paid to write that story by Cloud Nine Management, and I am partner in IW so I was also compensated.

If you are squeamish about that, well you can always wait for my paid service to come out.
DJ
P.S. If there are any other public crypto stocks that you like, please drop me a line at dj@newcurrencyfrontier.com.