There WAS an opportunity there. An opportunity to lose lots of money if you bought in the late summer of 2022.
Then, at the beginning of this year. I wrote up a bulletin to my paid subscribers with the headlines "Premium Bulletin #102: Almost Ready to Buy Bitcoin Mining Stocks (But Not Yet)" with such memorable quotes as "It's definitely worth sitting on the sidelines for the first one or two weeks in January to see what happens, .."
Um, yeah, whoops…
Fortunately, my animal spirits overcame my intellect at the beginning of the week, and I started to load up on some of my favorites.
First, I missed out on getting DMG Blockchain. When I wrote up my bulletin, it was trading at 13.5 cents CAD. It closed today at 31.5 cents, yes that's more than double: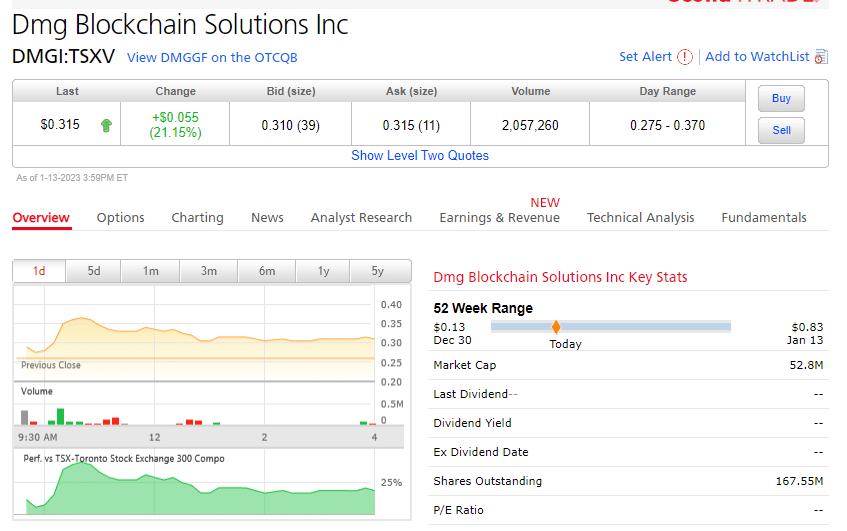 But, as any long-time reader of my newsletter knows, I'm a big fan of Bitfarms. I didn't get any at 53 cents (the price when I wrote up the bulletin), but I managed to get a nice chunk under one dollar Canadian. It closed today at $1.43: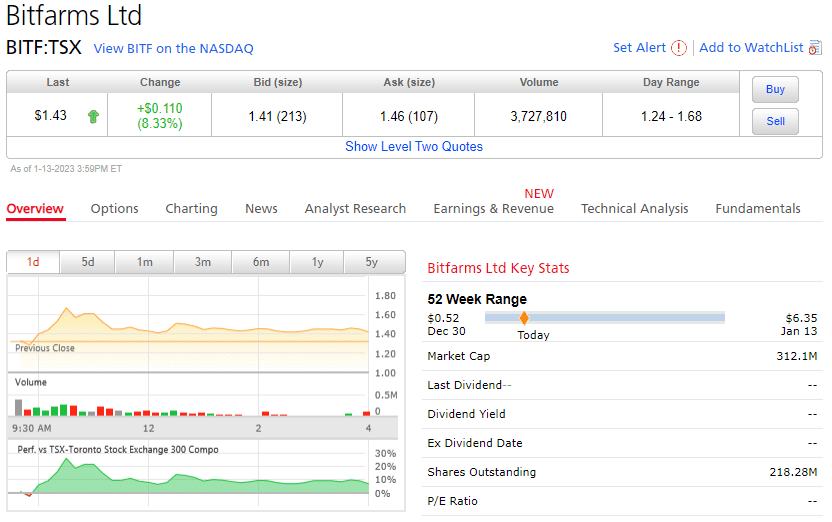 Look at that lovely 52-week range. It traded as high as $6.35 exactly one year ago, so we are still trading more than 75% off its one-year high.
Will it hit $6.00 anytime soon?
I doubt it. I even think there might be a pullback next week. But will go back to 53 cents? Will it even go under a dollar? I don't think so.
And that means I can be patient holding these stocks and letting the year play out. It's only January.
This is why I invest in crypto. You can be wrong many times. You can be wrong for a long time. But one crazy week puts you back in the driver's seat.