I have been accumulating OmiseGO coins all last week and completed my last trade yesterday for about $17.50 USD per token.
The OmiseGO coin is one of the lesser-known coins in North America, as the project team is based in Asia. It ranks #22 worldwide in terms of market cap at $1.79 billion USD: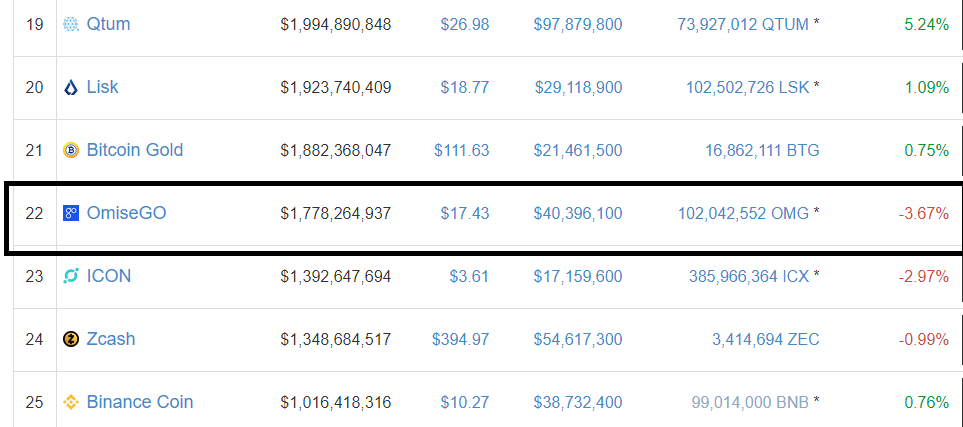 Before I tell you what OmiseGO actually does and why I decided to buy it, I want to tell you how I found it in the first place.
Before I even considering buying any digital coins or tokens, I run a scan on them via a very useful website called Ethplorer.
Ethplorer tracks market cap, number of coins issued and transaction volume. But most of all, it tracks owner concentration via wallet addresses.
For me, this is important. I am leery to invest in any coin if I see one wallet address is above 25% ownership of total coins issued, or, if the top 5 wallets control more than 40% of the total number of coins in circulation.
When you see high owner concentration, the coin can be dumped or even manipulated. It's something to watch out for.
OmiseGO passed that test with flying colours as the top ten wallet addresses own less than 25% of the total coins issued.
There is a total of 595338 addresses or "wallets" that contain some amount of OmiseGo coin. Daily volume is between $40 and $60 million USD.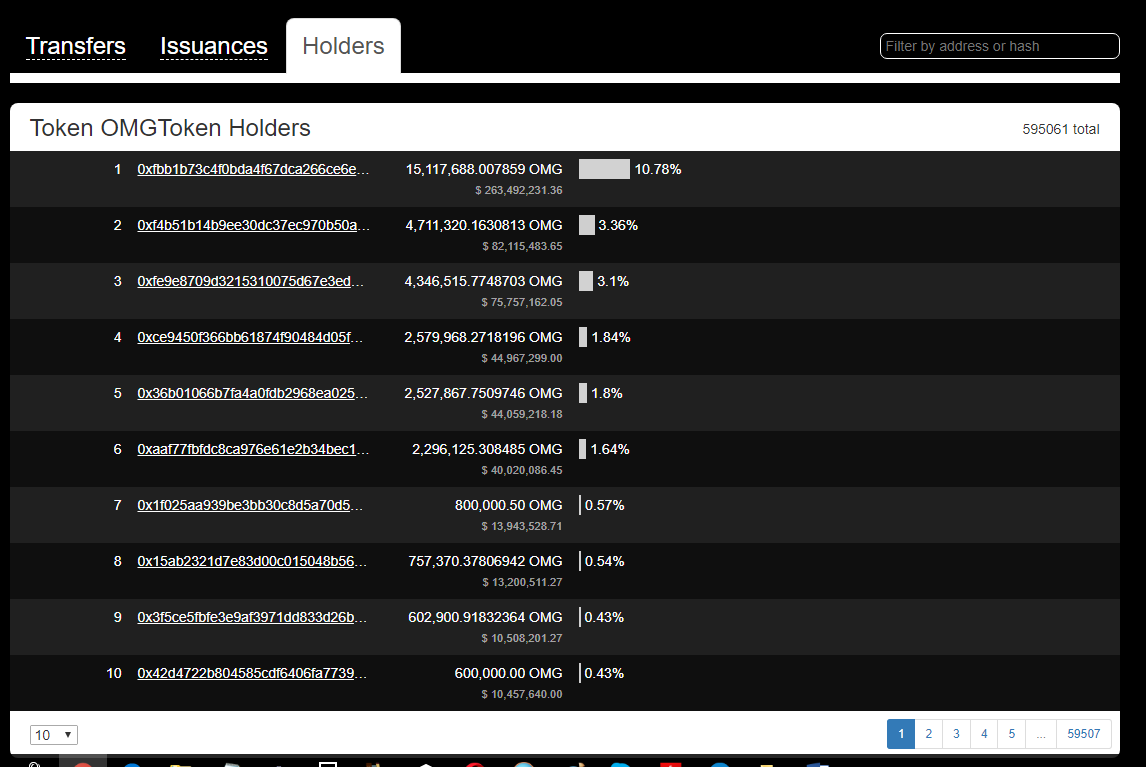 From https://ethplorer.io/address/0xd26114cd6ee289accf82350c8d8487fedb8a0c07#tab=tab-holders
With slightly more than 140 million coins (or tokens) in circulation, the total valuation of the OmiseGo network is about $2.2 billion USD.
Is that a fair valuation? Well, that's what the market is giving OmiseGo right now. If the development team delivers on their promises, I think it will go a lot higher. If they fail, then it won't.
What is OmiseGO Supposed to Do?
The OmiseGO team is building a digital wallet that will enable people use credit cards, gift cards, and other digital currencies within the OmiseGo network. Their slogan is "Unbank the Banked."
The key concept: OmiseGo would be a "peerless" exchange of financial assets. When the OmiseGO network is fully operational, you should be able to exchange one financial asset, like Japanese Yen, for another financial asset, like Ethereum, without having to go through a central exchange (i.e.. Not have to pay any service or transaction fees).
Therefore, OmiseGO is what is called a "decentralized" exchange. And decentralized exchanges are VERY HOT in the cryptocurrency world. Everyone is trying to build one.
So How is OmiseGO Difference from Everyone Else?
People in North American are not familiar with Omise, but they are one of the largest and most respected payment gateway providers in Southeast Asian (think of Paypal or Stripe).
Omise has been researching blockchain since 2015 and sponsored the OmiseGO project. The OmiseGO ICO took place in June of 2017 and raised $25 million in one day.
To summarize, OmiseGO has a team with developers and has been working on this project for more than two years. Try to remember that there are lot of ICOs out there that have NO development teams and are nothing more than a bunch of ideas written down on paper.
Omise has stated in the OmiseGO white paper (that's like a prospectus) that upon completion of the OmiseGO decentralized network, it will be "open source" and "nobody will control it."
I like to invest in digital coins that have a corporate sponsor. At the very least, you can be assured that the development team will be staffed by experienced people that are under pressure to launch the product. If OmiseGO turns out to be a bust, then that's a black eye for the Omise corporation.
OmiseGO also got a thumbs up by Vitalik Buterin, the founder of Ethereum, as his "favourite token model."
There is just very little (or zero) negative press on the project from the development community and again that's very rare. Usually, you can find somebody somewhere who dislikes the a coin for whatever reason.
Conclusion
While the OmiseGO wallet has been released to the public, it has severe limitations and is really most of interest to other development teams who are planning to connect with the OmiseGO network.
Therefore, this is still a speculative play. If the OmiseGO team can deliver on ANY of their promises by the summer, then it's possible to see some spectacular gains in the coin, like 200%-500%.
But of course, they wouldn't be the first development team in history to miss deadlines. Or somebody lease might beat them to punch and launch a decentralized network that is similar to OmiseGO. So there are risks to be considered.
If I see a sudden rise in the coin price (like 100%) for no reason at all (i.e. general cryptocurrency mania), I will probably sell half to get my cost out.
But I am also willing to wait until the summer to see if they can deliver anything at all.
There are number of overseas exchanges where you go buy OmiseGo coin. Because most of these exchanges can be funded with bitcoin, you can open an account right away, fund it with bitcoin, and start trading immediately.
Exchanges that trade OmiseGo coin include: Huobi, Binance, and Bittrex. A full list of exchanges that trade the OmiseGo coin be found here.
Ross.