I have been accumulating B2BX tokens for the last week, purchasing small batches on oversea exchanges such as: Livecoin, Tidex, Coinexchange, Yobits, and Mercatox.
Over the last year, I have looked at MANY initial coin offerings (ICOs) and participated in about six of them. Most ICOs are not worth the time it takes to read the white paper (prospectus).
I first bought B2BX tokens last September during the ICO and wrote about them here in article called"Bitcoin Has a Liquidity Problem and Here is the Solution"
As I said in the article:"B2BX will be a cryptocurrency exchange that serves not retail customers (that's you and me) but brokers and institutions. Specifically, they are focussing on the FOREX (foreign exchange) brokers that work on the Metatrader platform."
After slightly more than five months, the B2BX team have announced that a cryto-broker client will be launched on the metatrader 5 platforum which will:
"…Not only to accept B2B coins as a means of payment to make a deposit, but also to nominate a deposit on the platform in B2BX coins, where it will be possible to trade 27 currency pairs with a 1: 3 leverage."
https://medium.com/@b2broker/b2broker-b2bx-latest-news-09-09-18-5dec55c1d0f1
More than 4000 Forex brokers (50+ percent of the Forex market) use it. It's a huge market.
There is another reason I am accumulating the tokens. In this bear market, they are one of the few tokens that have a decent chart: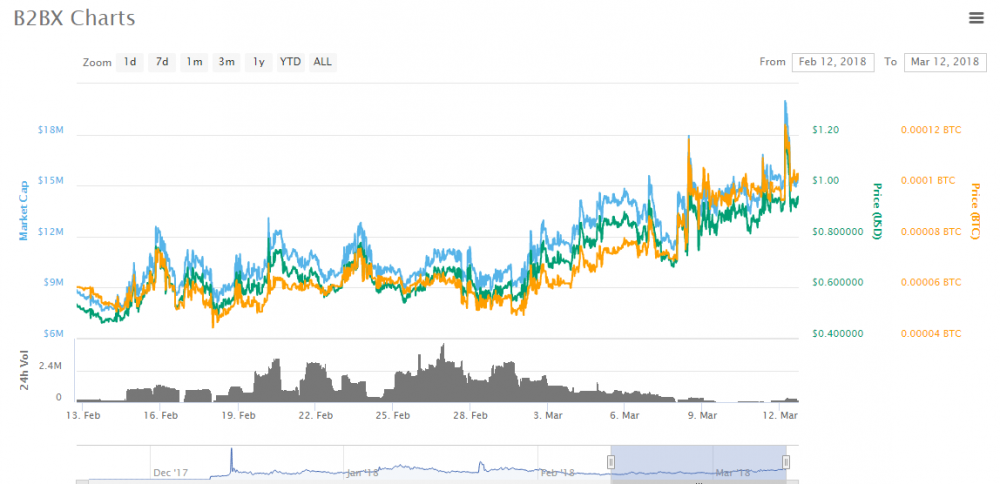 Blue line is market cap. Green line is value in US dollars. Gold is value in bitcoin.

Disregarding the price spikes. It's been trading between 86 cents and one US dollar for the last week, while bitcoin (and ethereum) continue to struggle.
B2BX fundamentals are great, they will have a working product very soon, the coin is listed on a half-dozen exchanges, the token has a clear and useful purpose in the marketplace, the executive team is top-notch, it checks all the boxes.
But remember what is important in this market: those factors may not have as strong a bearing on the future token price, as much as North America investor sentiment.

You see, in the last quarter of 2017, a lot of North American investors bought into the cryptocurrency craze and are holding stock/coin/tokens that they don't really understand.
And now they want out. Therefore, the market in North America is very bearish.
So bad news, good news, whatever, those investors are just looking to sell. I just don't know how many North American investors bought B2BX coins in the first play.
This is a Russian team and they are based in Russia, Hong Kong, and Japan. Cryptocurrency investors in Asia are not nearly as bearish as North America.
The market cap of the B2BX token is around $16 million USD and coin ownership numbers look great: No wallet address holds more than 5% of total tokens issued: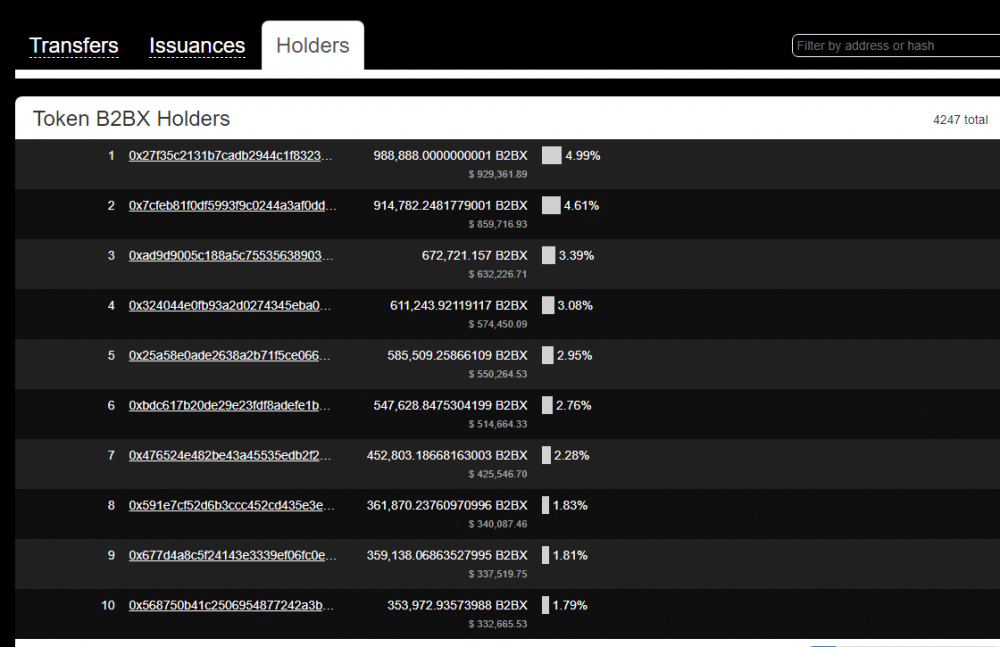 If the B2BX coin skyrockets, (one can hope), I don't have to worry about a "whale" dumping their coins.
Conclusion

The ICO price of B2BX was 78 cents USD, but I participated in the presale and thus paid only 51 cents. It's currently trading at 87 cents.
This is a microcap coin ($16 million) and on some exchanges, liquidity is a problem. I am in the process of accumulating more coins but some days it's a slow process.
But the coin held its value when every other token was crashing, and now it's slowly going up while the market overall is stuck in neutral.
You have to stick your fishing rod in waters where the fish are biting. Sometimes that means a long boat ride.
Ross